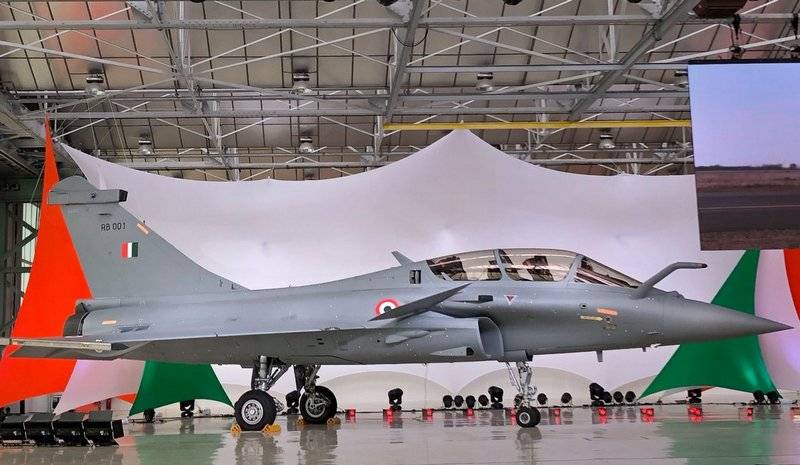 The Ministry of Defense of India purchased French Rafale fighters due to the superiority of technical characteristics over the Russian Su-30MKI fighter. Thus, the Indian edition of The Economic Times is trying to justify an expensive deal.
The authors of an article in the publication call the acquisition of French aircraft "a very good deal." Comparing the Russian Su-30MKI and the French Rafale, they indicate that the Russian aircraft has only one advantage - it is cheaper, otherwise the French fighter is significantly superior to it.
The newspaper claims that the ability to prolongly barrage French aircraft is 1,5 times higher than the Su-30MKI. The flight range of Rafale is from 780 to 1 thousand 55 km, against 400 – 550 km at Su-30MKI. French fighters can fly five sorties a day, and Russian fighters can fly three. Thanks to "superior American-made radars and missiles," intercepting one Pakistani F-16 Fighting Falcon requires two Indian Su-30MKIs, while intercepting Rafale requires two F-16 Fighting Falcons.
Rafale's armament surpasses all other armament systems in the region and will give India the ability to hit Pakistani aircraft over long distances without the threat of being seen. In addition, the SCALP air-to-ground missile will be able to hit targets on Pakistani land with absolute accuracy
- writes the edition.
Recall that India purchased from France 28 single and 8 double Rafale fighters. An agreement worth 7,87 billion euros was concluded in September 2016 of the year. The first batch of 4 aircraft should arrive in India in May 2020, and the delivery of all fighters will take place before 2022 year.