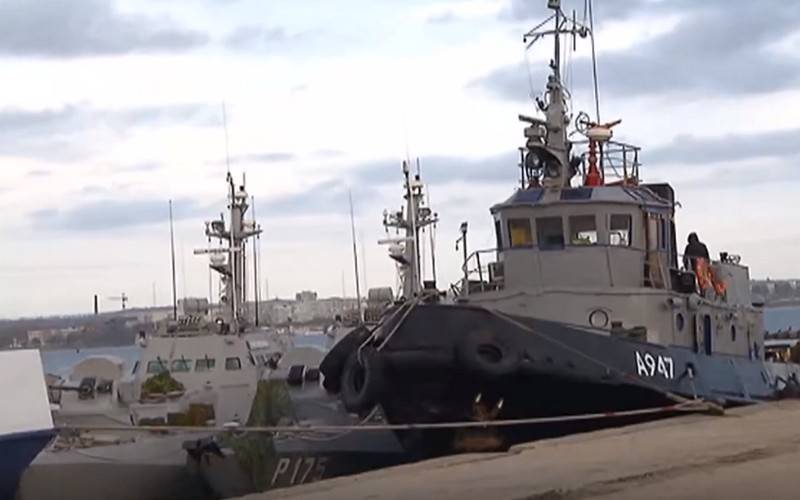 The possible transfer to Ukraine of boats and a tugboat detained in the Kerch Strait is in no way connected with the upcoming meeting of the "Norman squad" in December 9, this proposal was made a long time ago, but in Kiev they are in no hurry to pick up the ships. This was reported by Interfax with reference to a statement by the Russian Foreign Ministry.
As explained in the Russian foreign ministry, the transfer to the Ukrainian side of the boats "Berdyansk" and "Nikopol", as well as the tugboat "Yana Kapu", detained during a provocation in the Kerch Strait, has nothing to do with the upcoming Norman Four summit. The proposal to Kiev that Ukraine could pick up the ships at any time was made a long time ago and for this the Ukrainian side needs to fulfill several small conditions, the main of which is the guarantee of the safety of boats and tugboat as material evidence. However, in Kiev, they are in no hurry to fulfill the conditions of Moscow, continuing to speculate on this topic.
Initially, the proposal made to Kiev all this time did not lose its relevance. They can do it at any time.
- stated in the Ministry of Foreign Affairs.
The fact that Russia made a fundamental decision on the transfer of ships to Ukraine, Kommersant wrote. The publication claimed that the Russian tugs of three Ukrainian ships will be displayed at the designated point, where they will be awaited by tugs of the Ukrainian Navy in order to tow either to Odessa or Mariupol. Sources of the newspaper said that the alleged "problematic issue should be resolved before the summit in the" Norman format ", which is scheduled for December 9."