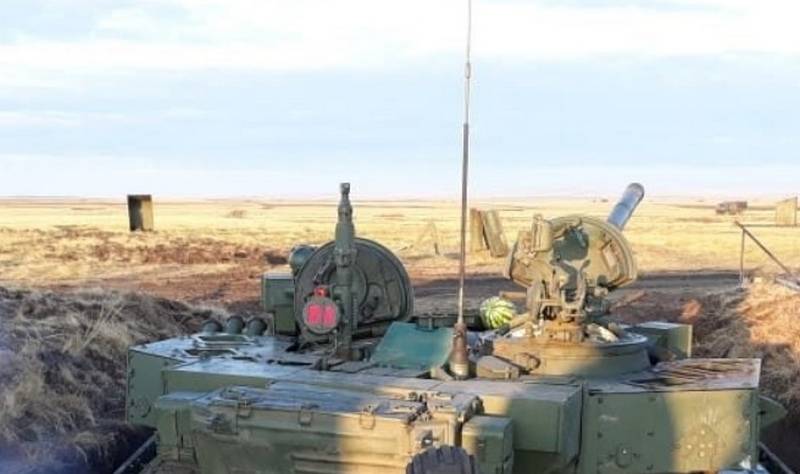 Interesting shot
tank
T-72B3 with installed active defense complex (KAZ) T09-06 ("Arena-M") appeared on the Web. It is assumed that the photo was taken during field tests of the Russian KAZ.
The picture clearly shows the special compartments and the antenna unit of KAZ Arena-M installed outside the tank turret.
Where and when the picture was taken no explanation. It is assumed that the MBT T-72B3 with the installed protection complex is involved in the field tests of the protective system.
Earlier, a similar complex was shown on a demonstration model of the modernized T-72Б3 tank during an exhibition in Nizhny Tagil in 2013 and 2015.
In January 2017, Valery Kashin, general designer of the Engineering Design Bureau Corporation (KBM, Kolomna), announced that the new Arena-M active defense complex (KAZ) would be installed on the T-72 and T-90 tanks and that it was being tested under the personal control of Commander-in-Chief of the Ground Forces Colonel General Oleg Salyukov. In 2018, it was reported that UVZ purchased elements of the KAZ Arena-M for installation on the T-72B3 tank as part of the Perfection-A development work.
It was indicated that KAZ "Arena-M" is a system installed on a combat vehicle, which includes a multifunctional radar station with high noise immunity, detecting targets. Shells are struck by protective ammunition of narrowly targeted action, located around the perimeter of the tank turret in special installation mines.
The system is installed in the bulletproof compartments outside the tank turret and operates in automatic mode, providing double protection in each direction of attack. The system provides radar tracking and destruction of flying targets. The principle of the complex's operation is to defeat the PTS with a directed stream of heavy fragments during the detonation of a firing striking element when approaching a tank at ranges from 20 to 50m. The complex provides protection in sectors in azimuth to 360 and sectors in elevation from minus 6 to 20 degrees.