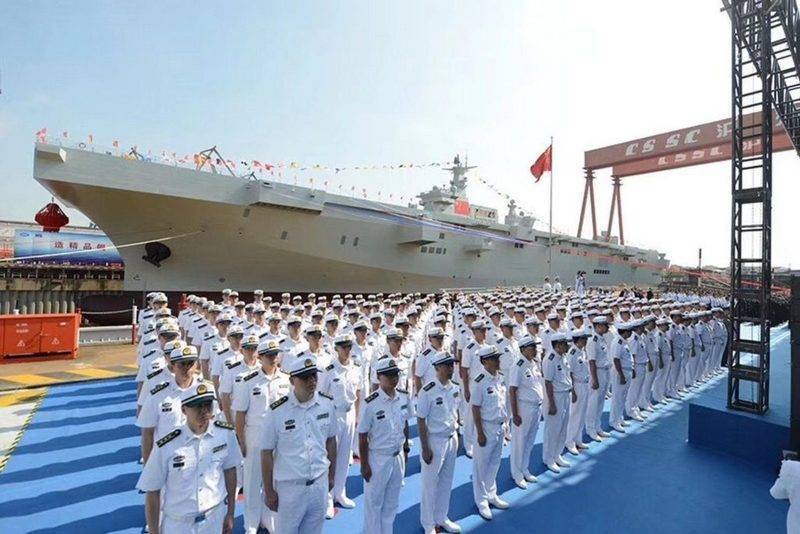 Head UDC "Type-075" after launching. September 2019 of the year
China has begun construction of the Type-075 Third Universal Landing Ship (UDC) for the PLA Navy. It is reported by Jane's Defense Weekly with reference to commercial satellite images.
According to the publication, at the Hudong-Zhonghua Shipbuilding shipyard (a division of China State Shipbuilding Corporation - CSSC) in Shanghai, construction of the third Type-075 UDC was launched. The hull is at the stage of assembly in a dry dock next to the second ship under construction of this class.
As TsAMTO previously reported, the PLA Navy at the first stage plans to commission three UDCs of this type. The lead ship of the series was launched at the 25 shipyard on September this year. According to reports, the assembly of the case took from 9 to 10 months. Currently, the UDC is being completed afloat. Then it was reported on the construction of the second UDC series and the possible laying of the third ship. Presumably, the third ship was laid down in October.
Based on the construction schedule of the lead ship of the series, it is assumed that the second and third UDC will be launched in March and July of next year, respectively.
The UDK of the 075 project under construction is a rather large ship comparable in size to its class in the UDC of the US Navy. According to available information, the length of the ships of the 075 project is 235 m, and the total displacement is 36 thousand tons (data from Chinese sources). American UDCs of the same class like Tarawa, Wasp and America have a length of 254-257 meters and a total displacement from 40 to 46 thousand tons. Width - 36 m, draft - 8,5 m. The estimated UDC speed is 23 knots, cruising range at speed 15 knots is about 10 thousand nautical miles. The ship can accommodate up to 1500 marines and more than 70 units. technicians. According to military experts, the Type-075 UDC can carry from 20 to 30 transport and attack helicopters of several types (Z-8, Z-9, Z-18, Ka-28, Ka-31), and possibly a ship version of the new Z-20.