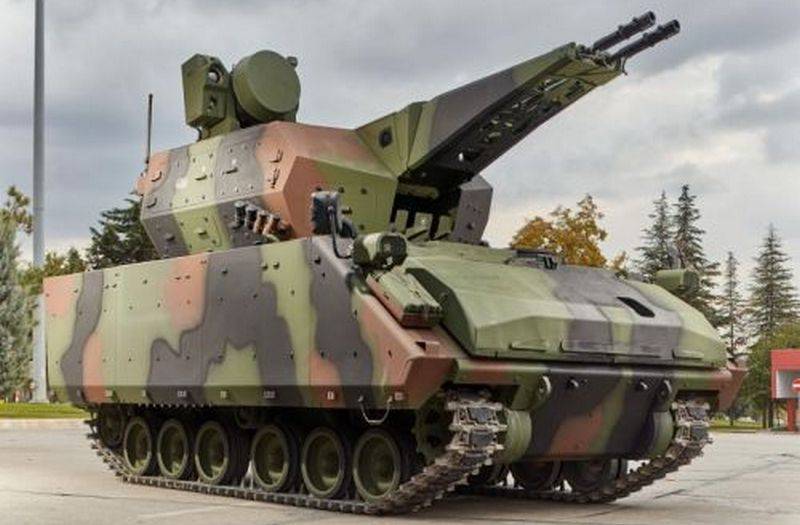 Turkish Armed Forces began to receive Korkut short-range self-propelled artillery systems. Aselsan, a development company, has supplied the Turkish Defense Ministry with ten anti-aircraft systems. This was announced by the First Deputy Minister of Defense for the military-industrial complex Ismail Demir.
The first Korkut pilot system, consisting of two Korkut SPAAG combat vehicles and one C2 command vehicle, was delivered by Aselsan to the Turkish Ground Forces in October 2016. Then the Ministry of Defense announced plans to purchase 2020 combat vehicles and 40 command vehicles before the 13 of the year. The system is designed to destroy low-flying targets - aircraft, helicopters, drones and missiles.
The Korkut system consists of one command machine and three anti-aircraft installations. A fire control station with a surveillance radar (range - 70 km), as well as a day / night optoelectronic station transmits target data to SPAAG anti-aircraft installations. The anti-aircraft installation is an ACV-30 tracked chassis, on which a tower is mounted armed with a paired 35-mm automatic gun, as well as a tracking radar (range - 30 km) and an optoelectronic station designed to capture targets in any weather conditions. The tower of the combat vehicle is equipped with an automatic ammunition supply system. This allows for 15 seconds to switch from high-explosive incendiary shells to tracer (TR-T) and air explosive ordnance.
The contract for the supply of 40 systems was signed in the 2017 year. Deliveries began this year and will be completed before 2022. These ZSUs will replace the obsolete M42A1 Duster. The anti-aircraft complex is floating.