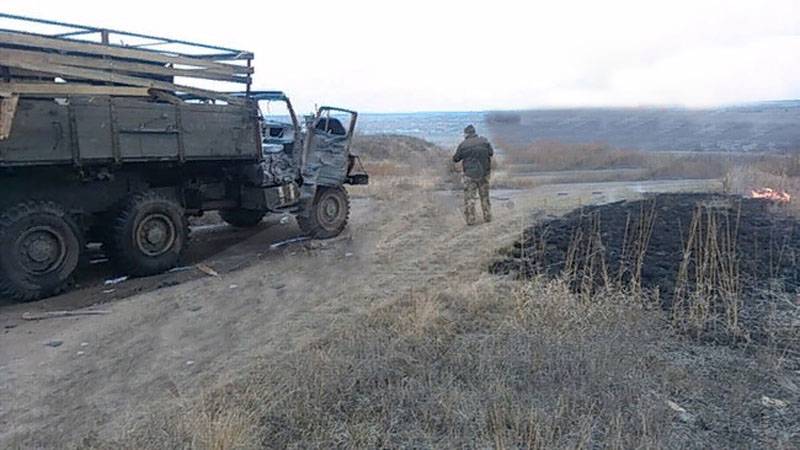 The DPR People's Police Department reports on the method that the militants of the Ukrainian armed groups used to prevent the dispersal of forces and assets in the area of ​​the Petrovskoye settlement. Recall that Petrovskoye is the third settlement (after the Village of Lugansk and Zolotoy), where a divorce is planned. After the divorce in these villages of forces and means, a so-called "Norman" meeting should take place with the participation of Vladimir Putin and Vladimir Zelensky. Where exactly the meeting will take place (if at all) is not reported.
The militants of the "Right Sector" (* an extremist organization banned in Russia) took measures to disrupt the withdrawal of the Armed Forces of the Armed Forces on the Petrovskoye-Bogdanovka section.
From the NM control message:
Militants of the "Right Sector" * in the area of ​​the village of Novognatovka with two shots from the RPG-18 "Fly" fired on the Ural car, which was coming from the breeding station in the area of ​​the village of Bogdanovka.
As a result of this shelling, one Ukrainian soldier died, four more were injured.
It is noteworthy that immediately after the shelling of the army "Ural" on the pages controlled by the Ukrainian radicals, there were reports that the shelling was the work of the enemy (LDNR troops). Ukrainian radicals announced that they allegedly hit the Urals from an ATGM. But the picture shows that the injuries sustained by the truck are not characteristic for getting ATGMs.
In the DPR, they noted that representatives of the OSCE mission were present on the eastern side in the zone of troop withdrawal in Petrovsky, who did not record any shelling by the people's police on Ukrainian positions and Ukrainian military equipment.