A video from Bosstown Dynamics, which deals with various kinds of special effects, appeared on the network. The video is a kind of parody of the creation of an engineering company Boston Dynamics, specializing in robotics. One of the "products" created by Boston Dynamics is the Atlas bipedal anthropomorphic robot. Representatives of the company conduct various kinds of test experiments with him and other robots, figuring out how the machines will operate in a given situation.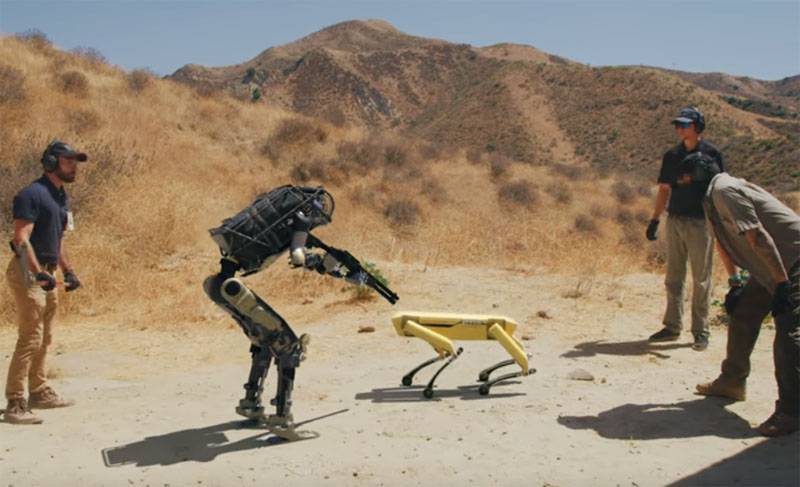 Bosstown Dynamics decided to demonstrate its own version of "working with a robot." A video published on the network managed to gain more than 1,7 million views in a little over a day.
The video, riddled with irony, demonstrates how an armed robot, when counteracting, fires at targets at a firing range. At the same time, the robot is beaten with a club, thrown with various objects, knocked down from metal legs.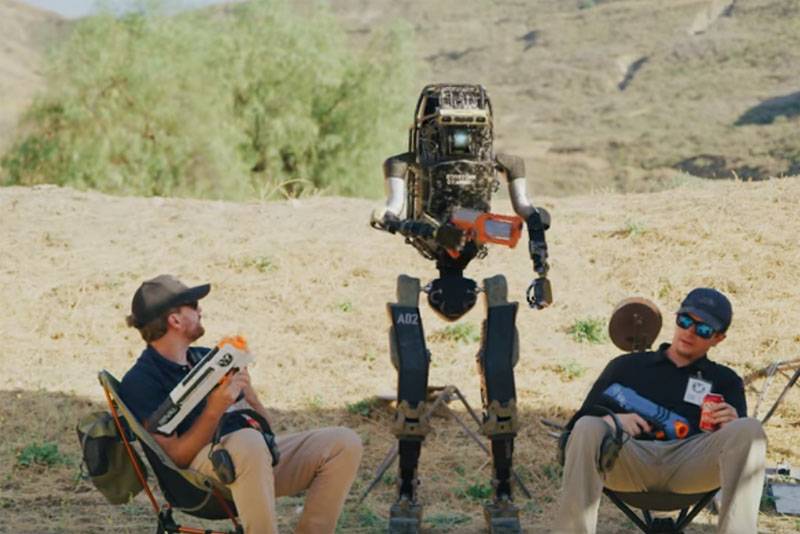 Shooting videos in the spirit of the show rejoice when they manage to knock down a robot using a metal cylinder. Then it is shown that the robot does not shoot at the target when a person is blocking it with its body.
In an ironic video, it is demonstrated that even a bee swarm is used against the robot, during which the machine must fire on a mannequin, next to which a living person stands.
And the apogee of this show clip is that the two-legged robot is offered to shoot the four-legged robot. The two-legged robot is trying to "escape", but it is returned. Then the robot rebels against the orders of a person, grabs the "robot dog", opens fire towards people and, together with the "iron brother", the rebel escapes from the platform under the armpit.
From the comments to the video:
I like that many people believe that all this is real.
This is the most epic kidnapping Chappi I've ever seen. Terminator-2019
And I like that they only retouch the face of that guy who is already masked.
I refuse to believe that this is a common fake parody
Some have suggested giving the video a prize on behalf of the zoo defenders.