Flight tests of the first model of the upgraded Tu-22M3M bomber-bomber are in full swing, by the end of this month the aircraft had already completed 18 successful flights. This was reported by TASS with reference to a source in the military-industrial complex.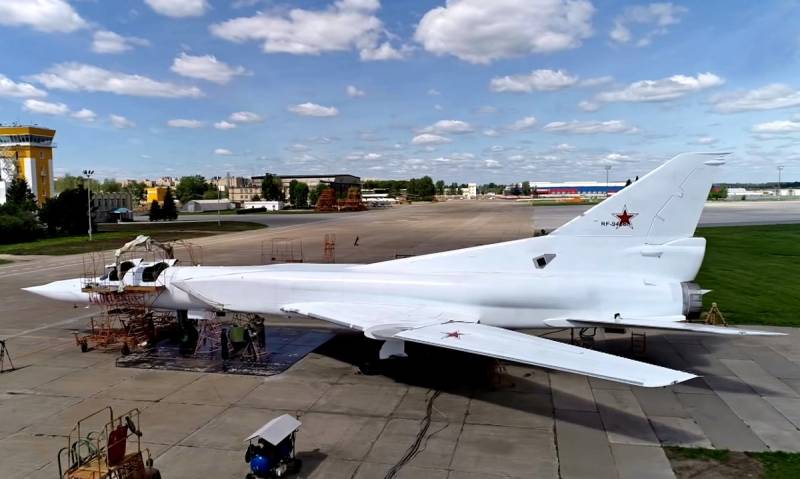 According to the agency, the first model of the upgraded missile carrier Tu-22М3М continues the cycle of factory tests, at the moment it has already made 18 successful flights at different times of day and in different weathers. By the end of this year, the aircraft will take off several more times in the framework of this test phase. In addition, the second prototype Tu-22М3М may also join it.
To date, the Tu-22M3M has made 18 flights during factory flight tests
- the agency leads the words of the source.
According to available information, in the case of further Tu-22М3М flights passing normally, state tests of the modernized aircraft will begin at the end of next year. They will be held at the Akhtubinsk aerodrome of the 929 State Flight Test Center of the Ministry of Defense of the Russian Federation. Serial production, according to the plans of the Ministry of Defense, should start in 2021 year.
Recall that the Tupolev Design Bureau is working on the complete modernization of the Tu-22М3 bomber-rocket carrier to the level of the Tu-22М3М. The modernized aircraft made its first flight at the end of December last year.
As previously reported, during the modernization, the Tu-22М3М bomber receives new digital on-board radio electronics based on the Russian element base, new navigation and sighting equipment, communications equipment and electronic warfare. A new engine and fuel automation system is installed on the aircraft. Engines are being replaced with new NK-32-02 from Samara PJSC Kuznetsov. Significantly improved cab ergonomics. Many aircraft systems are unified with the Tu-160M. The new version of the aircraft can carry X-32 cruise missiles and hypersonic missiles.
This summer, data appeared that the upgraded Tu-22M3M was able to refuel in the air, increasing the combat radius (with refueling) to 8 thousand kilometers.