Showcase of success at the edge of the world
It seems like something, but the protests do not surprise us. Even the recent "brothers," who suddenly became non-brothers, their protests demanding to change some thieves for others, even more arrogant, were more perplexed and slightly squeamish than surprised. And if something that causes an observant person a slight shock and bewilderment is the geography of the protests and the reasons for which they might break out.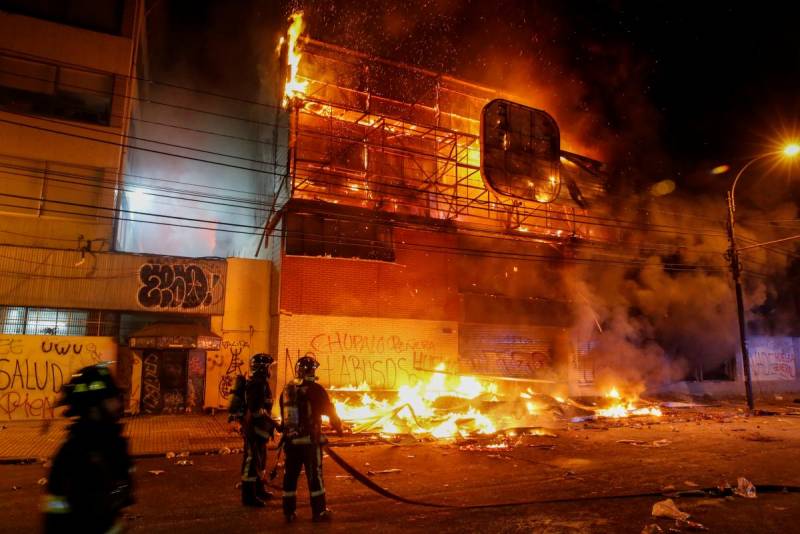 And now, watching what is happening in Chile, you involuntarily think about the fact that you can "bomb" absolutely everywhere, and no one can predict what exactly the accumulated critical mass of popular discontent will detonate from. And we also have a chic occasion to note some random coincidences between Chile and one large northern country, which is rightfully proud of its many years of stability, but has been undermined by various pests for several years now.
We will talk about the protests in Santiago and its surroundings a little later. In the meantime, a little about the "context", which will help us a little more fully understand what is happening.
For quite some time, Chile was considered one of the most prosperous countries in Latin America. She was cited as an example by all kinds of unreasonable Aborigines around the world - you see, they say, how well do those who obey the IMF and implement its recommendations live? The stability of this country was striking even against the background of relatively (by Latin American standards) prosperous Argentina and Brazil, and even against the background of some Colombia or Venezuela it seemed simply fantastic. In general, Chile was considered almost an island of prosperous Europe in a sea of ​​Latin American chaos, and until recently no one could have imagined that due to the increase in the cost of the metro ride on the 4 ruble, unrest would break out in the country, the result of which at the moment are fifteen dead, hundreds of wounded and thousands of detainees.
Of course, now a lot of experts have appeared, thoughtfully declaring that everything is obvious and everything has long gone to that. But somehow all this is doubtful, agree? After all, apart from the Chileans themselves, no one saw the prerequisites. And yet they were all the same ...
I don't hint at anything!
First of all, it should be noted that Chile is a typical third world state in terms of income distribution. There are enough rich people, enough "middle class", but obvious poverty and real poverty remained. It is she who now feeds street protests: for many young people without education and a chance of a successful job, the opportunity to rob shops, restaurants and car services with impunity seems to be a good alternative.
I don't want to hint at anything, but some parallels with a large northern country can be traced, agree?
Another sudden parallel is the raw material orientation of the economy. True, Chile does not sit on an oil "needle", but on a polymetallic one - the export of copper and tin brings the lion's share of foreign exchange earnings to the country's budget. Of course, any instability in the commodity market throws Santiago now in the heat, then in the cold. But there is no need to explain anything to the northern country - it's familiar to the pain, it itself goes through with unenviable regularity ...
The services sector, agriculture, winemaking, and tourism are also well developed in Chile. But all this, with the well-known correction for the considerable remoteness of the country, the difficulty and high cost of export deliveries of high-value products and the high cost of flying to Santiago from somewhere from Europe, Japan or China, which are the main suppliers of solvent tourists.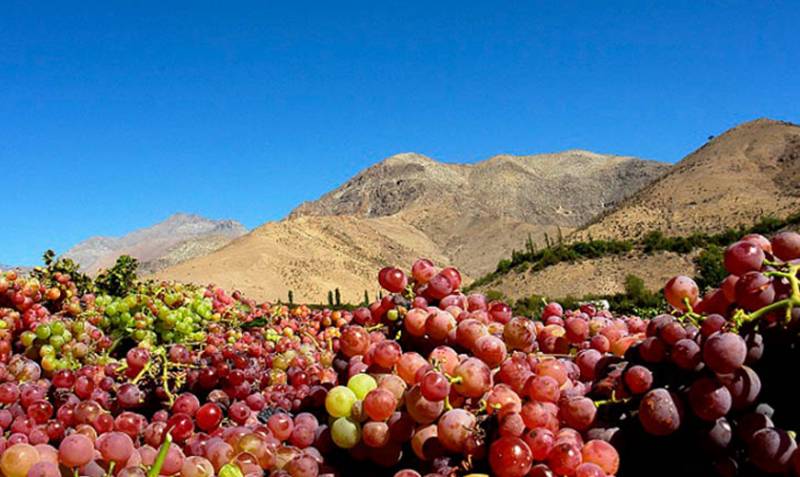 We add fishing and seafood production here, which is quite logical if there is a coastline of 6435 km in length. True, all the costs of the country's great remoteness from the main markets are felt here: you can extract much more than you manage to export at a decent price. Own needs with a population of approximately 18 million people are not so high as to ensure demand for all fish harvested.
In general, the Latin American showcase of the "free market" turned out to be rather fragile, as is often the case with display cases. There were problems, they accumulated, for many years they caused a dull irritation among the local population, and once, when the government took an careless step, this beautiful window was smashed to smithereens.
Notice, I'm not hinting at anything again. Just recently, our prime minister said that everything is normal in our economy. And sometimes it seems that he only has to announce a price increase for the metro ...
But there is still much in common ...
Actually, the protests themselves in Santiago (and the surrounding area) are not special. You probably all already know that they broke out due to higher prices for metro fares, first developed in the capital, and then spread to other regions of the country. An important component of the protest was the robbery and arson of shops, service enterprises, and restaurants. Moreover, the lion's share of the dead - the protesters themselves, caught in robbed supermarkets and unable to get out of them on time after the arson.
Nevertheless, one must understand that from a criminal point of view, Chile is also far from the worst country on the continent. This is not Colombia with its drug mafia, not Brazil with its thoroughly criminalized favelas, not Peru or Bolivia with their leftist "revolutionaries" - no, this is a completely safe country in terms of the criminal situation. In any case, it was considered such until recent events. And the statements of the local Ministry of Internal Affairs bonzes that criminals are opposed to them are only partially true: many of those who are now involved in robberies were recently considered quite law-abiding young people.
In this sense, Chile is somewhere even more calm state than some modern European countries, flooded with refugees, migrants and their descendants. Rather, you expect such manifestations of violence from France with its Arab and Negro underground. Rather, in Paris or Marseille, it is more familiar to see broken windows of looted shops and restaurants than in the once deanery and calm of Santiago.
And if you recall that the protests and civil unrest in Catalonia and Hong Kong are going on in parallel, you involuntarily think about whether the genies of the color revolutions got out of control, didn't he even devour those who were not originally intended? Indeed, from the list only protests in Hong Kong are probably included in the plans of the State Department, the rest of the countries are allies, albeit not the highest ones. Or maybe we will make an unexpected, but logical conclusion: the US has weakened so much that it is no longer able to hold its own brainchild and now can only watch how it tries to devour faithful American allies?
All in all, the events in Chile can indeed provide some food for thought. And especially to the inhabitants of a large northern country, which has much in common with the distant Latin American window of stability and prosperity.