Scheduled for spring next year, the large-scale military exercises Defender-Europe 2020 (Defender of Europe) will be held under the command of the US Army. This was reported by the NATO command.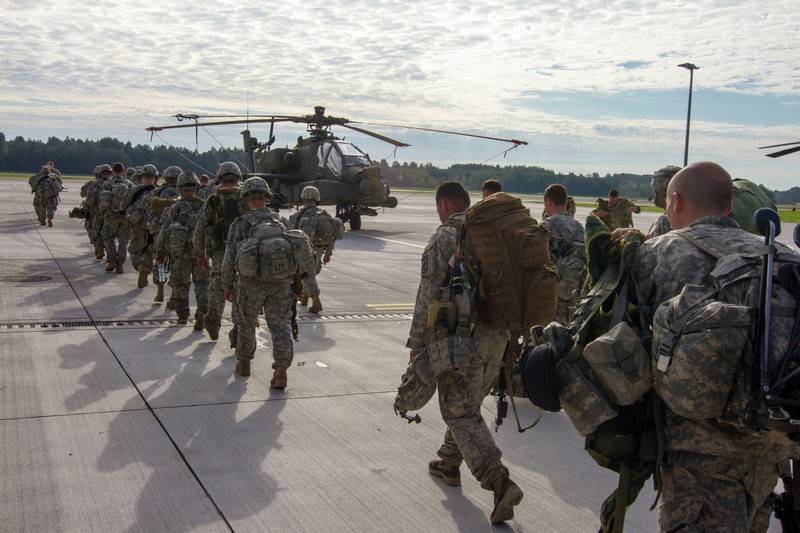 Scheduled for the spring of 2020, military exercises will be conducted under the command of the US military and will be aimed at developing the ability of the American army to quickly transfer from the US to Europe and deploy large forces on its territory, including equipment. As stated in the NATO command, during the US exercises they will transfer to Europe a record number of personnel and equipment over the past 25 years. The exercises will be held on the territory of European countries and Georgia, the main part will be held in the countries of Central and Eastern Europe. The main deployment is in Poland and the Baltic states.
According to reports, 37 thousand troops will participate in the exercises, of which 29 thousand will represent the US Army, which will be the largest deployment of the US military in Europe, which will begin in February 2020. About 20 of thousands of troops along with equipment are supposed to be thrown across the Atlantic to Europe. Most of the exercises will be held in April-May, after which part of the US military contingent will return to the United States by July, and some will remain in Europe, as a factor in deterring "Russian" aggression.
Commenting on the large-scale exercises near the Russian borders, Russian President Vladimir Putin said that Russia is calm about such exercises, but does not welcome them.
We recently conducted (exercises) - though not near the borders of NATO, we specifically conduct this in the depths of the Russian Federation. Therefore, we do not welcome attempts to escalate at our borders, we believe that this is harmful, but we will respond calmly
- Putin said.
In turn, the Belarusian leader Alexander Lukashenko called the upcoming US and NATO exercises "incomprehensible" and said that together with Vladimir Putin "they will think about how to secure their countries during the large-scale NATO exercises at the Belarusian borders."