In the Donbass, in the Zolotoy district, the breeding of forces was once again foiled. According to the representative of the LPR in the Joint Center for the Control and Coordination of the Ceasefire (JCCC) Mikhail Filiponenko, the Ukrainian side has not confirmed its readiness for breeding.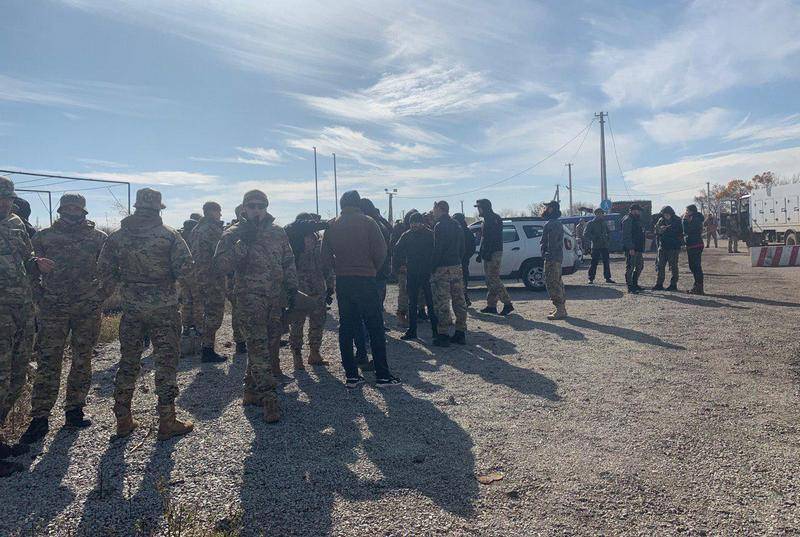 According to the representative of the LNR, the LNR NM in 12: 00 launched a white signal rocket as a sign of readiness for the withdrawal of forces, but there was no response from the APU. This information was also confirmed by OSCE representatives, fixing that after signaling the readiness for the withdrawal of forces by the LPR, the Kiev side did not react in any way within an hour.
Meanwhile, Ukrainian media reported that nationalists drove into the Zolotoy district, where the separation of forces was to take place, in order to disrupt the agreements on the separation of forces. Ukrainian law enforcement officers standing at a checkpoint in Kremenny in the Luhansk region could not detain the "Natsiks" and let them in the direction of Zolotoy. Several "shots in the air" and a couple of clashes were reported, after which a column of nationalists proceeded further.
Earlier, the "National Corps", created on the basis of the nationalist battalion "Azov", announced a protest against the withdrawal of troops on the demarcation line. According to them, they are going to stay on the line of clash until the Ukrainian authorities abandon Steinmeier's formula. If the withdrawal of troops takes place, they intend not to leave their positions and defend the village.
At the same time, Minister of Defense of Ukraine Andrii Zagorodniuk said that Kiev did not intend to implement the Minsk agreements regarding the use of the full amnesty mechanism for the militias involved in the conflict in the Donbass.
In no scenario does anyone see an amnesty for terrorists and criminals who fought against ours, and especially those who committed crimes. The Minsk agreements were signed in 2014 under very serious pressure, and now the situation has changed
- he told reporters