The Slovak Air Force lost the MiG-29 fighter that crashed on Saturday evening in the area of ​​Zlate Moravec during a training flight. The incident was reported by the official representative of the Ministry of Defense of the country Danka Tsapakova.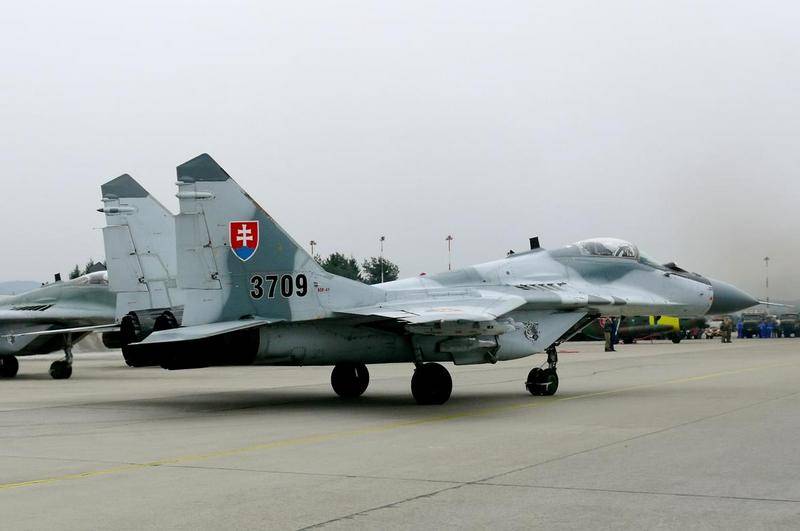 According to the information provided, the Slovakian Air Force MiG-29 fighter crashed during a training flight near the town of Zlate Moravec in the Nitrian region in the west of the country on Saturday evening. The pilot of the aircraft managed to eject, at present, his life and health are not in danger. The training flight was carried out by a pair of MiG-29 fighters, the second aircraft made a safe landing.
MiG-29 crashed near the town of Zlate Moravec. Pilot ejected
- the statement of the Slovak military department says.
As the Ministry of Defense of the Republic emphasized, the flight was carried out without ammunition, nothing was reported about the destruction and casualties on the ground. A preliminary cause of the crash is the lack of fuel in the tanks of the fighter. Final conclusions will be made after the work of a special commission that will deal with the analysis of this incident. The Minister of Defense of the country Peter Gaidosh left for the place of the fighter's crash.
The MiG-29 fighter is the main combat aircraft of the Slovak Air Force. At present, the structure of the Air Force of the country remains 11 Soviet-built fighters received back in the 90 years after the collapse of Czechoslovakia. The aircraft will serve until the 2023 year, after which, as F-16 Block 70 / 72 fighters arrive, they will gradually be withdrawn from the Air Force and withdrawn from service.