Ukrainian media reported on a complex pattern of the purchase of the country's Ministry of Defense armored vehicles from foreign suppliers.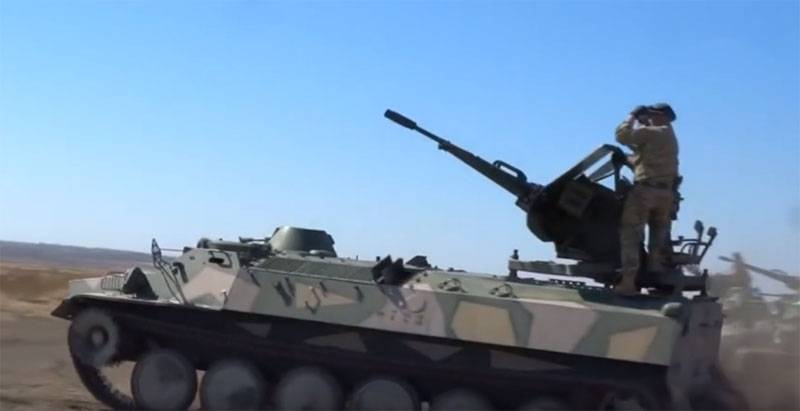 The use of MT-LB by the Ukrainian national battalion "Azov" (extremist formation, prohibited in the Russian Federation)
As it turns out, in July 2019, the state-owned company, Specialized Foreign Trade Company Progress, purchased ten Bulgarian-made MT-LB armored vehicles. The price for one "motor league" amounted to about 13 thousand dollars when implementing such a contract.
At the same time, Ukrainian reporters found that Bulgarian-made armored vehicles were delivered from India. But earlier there was no evidence that MT-LB was operated in India. But the "motorcycle leagues" are in service with the army of Bangladesh, neighboring with India.
The presented fragment of the document indicates that MT-LB was transported by sea from India by the carrier "Falcon". The same document states that "there is no data on the manufacturer (firm)." But it also states that Bulgaria is the producer country of MT-LB.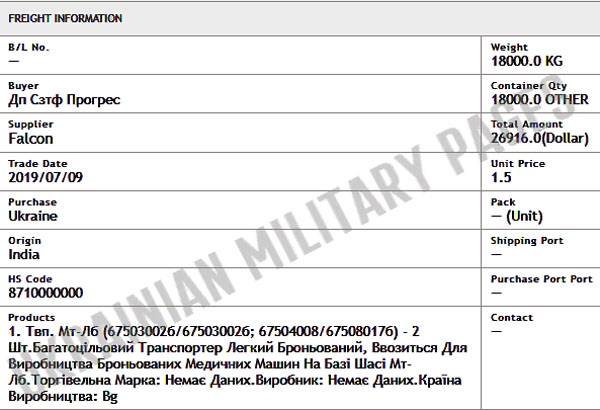 The acquisition reports say that Ukraine is acquiring MT-LB (a modification of MT-LB-S) as "ambulance armored vehicles". They have already managed to inflict red crosses.
The state defense order for the purchase of armored vehicles abroad in Ukraine was placed in 2015. Until recently, the private company VK System was engaged in its implementation.
MT-LB is a multi-purpose transport tractor. Armored vehicles used by the armies of a number of countries. It is noteworthy that one of the manufacturers of "motolig" was the Kharkov Tractor Plant. On the 2017 year, the Ukrainian army had more than 1,8 thousand MT-LB. In this regard, the question arose in Ukraine itself, why in the 2015-2019 years of the Ministry of Defense of the country it was necessary to purchase such armored vehicles of Bulgarian production, and even import from the Indian port. It is quite possible to implement another corruption scheme.