In New York, a short meeting was held between the presidents of the United States and Poland. Andrzej Duda was clearly looking for a meeting with Donald Trump after the "incident" with the latter's refusal to attend events in memory of the outbreak of World War II. Recall that then the US president referred to the hurricane.
Now, after arriving in New York at the UN General Assembly, Dude was able to speak with an American colleague. One of the questions concerned the possible deployment of medium-range missiles in Poland.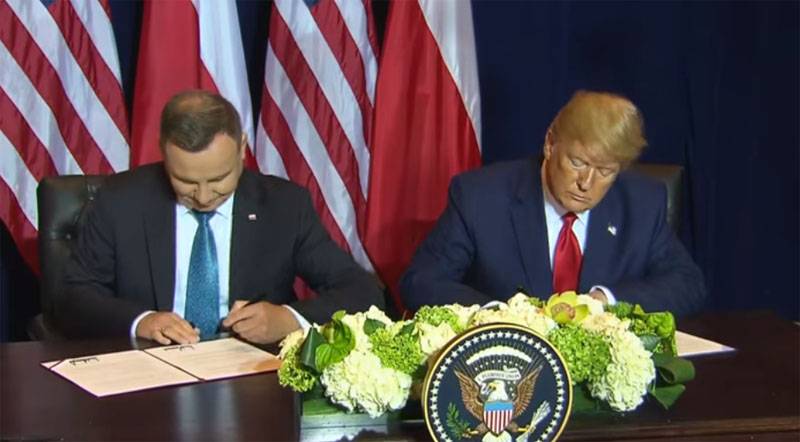 A few weeks ago, Polish Prime Minister Mateusz Moravecki announced Warsaw's readiness to discuss the deployment of American missiles. At the same time, Moravecki noted that the issue should be resolved during the discussion in the NATO format, adding that the danger comes from Russia and China. At the same time, Moravecki then said that Russia could take retaliatory measures in the case of the deployment of American missiles in Europe.
It is noteworthy that the question of the possible deployment of American missiles is raised by Poland itself. And, apparently, Duda has already begun to probe the soil.
Hogan Gidley, the deputy head of the White House press service, was asked by journalists to comment on what the presidents of the United States and Poland specifically said. Gidley noted that Trump and Duda discussed "significant progress in the joint base agreement in Poland." The administration official did not mention missiles.
At the same time, Gidley added that the presidents also discussed the issue of energy "European security".
Guides:
Both presidents expressed confidence that Nord Stream-2 (SP-2) poses a threat to the energy security of European countries. They discussed steps that could stop its implementation.
One of the topics is the protection of strategic facilities in Poland. In all likelihood, Duda raised this question in connection with the results of attacks on objects in Saudi Arabia. Recall that in Poland there is a large terminal for receiving American liquefied natural gas.