It became known about the court decision in respect of a man calling himself a Yakut shaman. We are talking about Alexander Gabyshev, who had previously stated that he was heading to the Kremlin to "expel Putin and restore democracy." Gabyshev outfitted an entire detachment into the approach, but was detained in the area of ​​the administrative border of the Irkutsk region.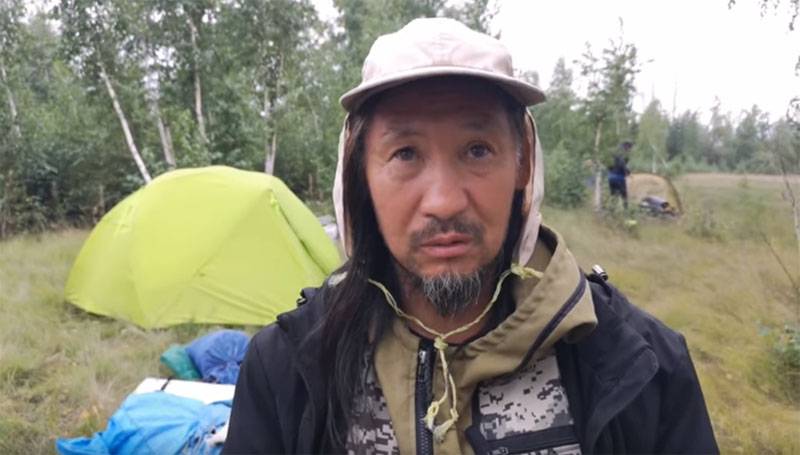 On the eve, as it turns out, Gabyshev was taken to the investigator, after which he found out that he was charged with "calls for extremist activity". It is also reported that a criminal case against him was opened on 12 of September, and on 13 of September he was put on the wanted list.
It is reported that in respect of Gabyshev, the court chose a preventive measure in the form of a recognizance not to leave.
From the report:
According to the results of a psychological and linguistic study, the statements of Alexander Gabyshev contain a public call for violent actions against the president of Russia.
Recall that Gabyshev announced his intention to overcome on foot the distance from Yakutsk to Moscow (about 8 thousand km) in about two years. The network joked about this: why was the shaman unable to work from Yakutia itself - is there a short range of spells? ..
Earlier in the press there were statements that the shaman was sent to a neuropsychiatric dispensary. Now it turns out that this was necessary for the examination appointed by the investigation.
A few days earlier, the presidential press secretary of the Russian Federation asked journalists to comment on the situation with the "shaman's campaign" and his detention. Dmitry Peskov said that the Kremlin did not know anything about the action of the Yakut shaman, nor about the shaman himself.
In the first interview after the detention, Gabyshev said that he was taken by plane to Yakutsk.
Gabyshev:
I will communicate with the authorities legally. I know their claims, and I have something to say. For the period of investigative measures, I will ask my detachment to rest. Relax guys, everything is fine.
A man calling himself a shaman, answering a question behind the scenes, added that he was provided with a lawyer and that "no illegal actions" were committed against him, including "violation of human rights".