The US Army signed a contract with BAE Systems Corporation for the full-scale development of a new armored repair and recovery vehicle (BREM) of the next generation M88A3. The agreement, worth 318 million dollars, provides for the conversion of a batch of armament armored M88A2 Hercules into the M88A3 variant, reports the bmpd blog.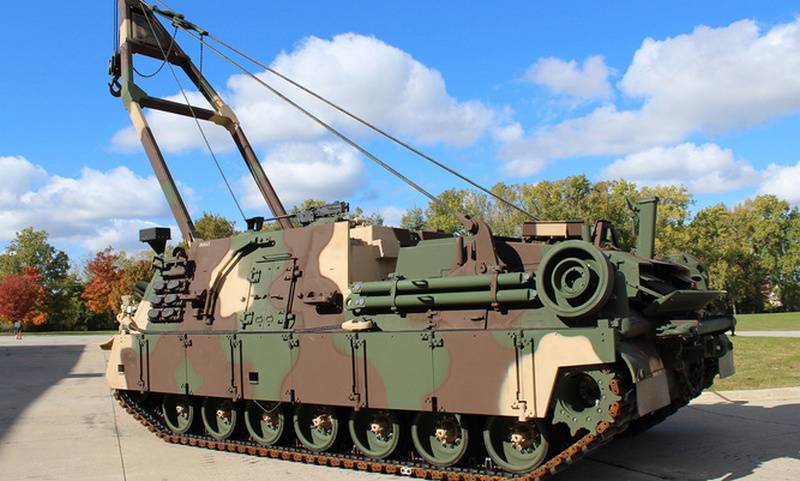 Prototype-demonstrator of the American promising BREM M88A3
According to the contract, the corporation will re-equip eight M88A2 ARVs into prototypes of the M88A3 variant, which will participate in the test program. They should be ready by the 2022 year. If successful, the new mass-produced BREM M88A3 can begin to enter the troops from the 2024-2025 years.
As stated in the corporation, the M88A3 is a new radically redesigned version of the main American AREM M88A2 Hercules, which is in service with the American army. Despite the similarity in name, the new ARV took partly from the old armored hull, and the rest is a completely different machine. The BREM M88A3 has an extended base on one skating rink with a hydropneumatic suspension, which provides automatic caterpillar blocking, which is necessary when pulling out stuck equipment. A 1300 hp diesel engine is also installed. with modified automatic transmission
tank
M1A2 and new powerful powerful crane equipment for the possibility of dismantling the turrets of M1A2 tanks of later modifications.
The US Army's need for new, more powerful ARVs was explained by the increased combat mass of the M1 Abrams main tank, which was significantly heavier in recent versions. The power of the BREM M88A2 army in service is already not enough. As a result, in order to tow the ABrams MBT of the latest modifications, two M88A2 ARVs are required.