Russia buys a large number of fifth-generation fighter Su-57, clearly preparing for a large-scale armed conflict between major powers. This opinion was expressed by the expert of the publication
The National Interest
Charlie Gao.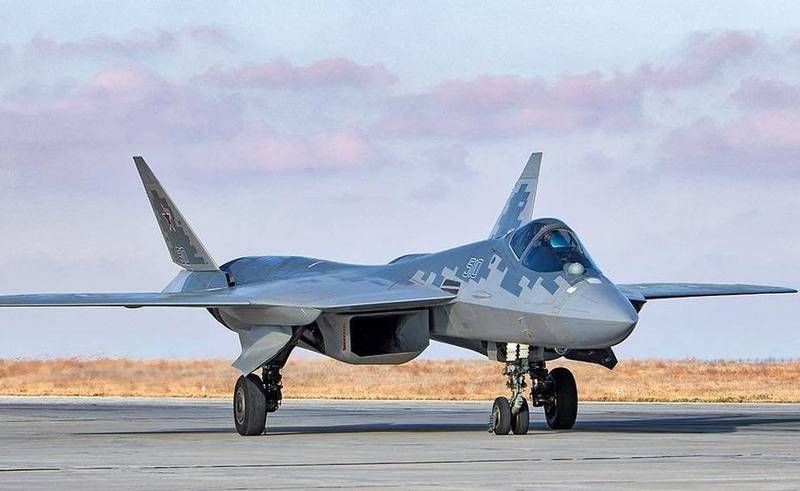 According to the American expert, Russia's purchase of a large number of Su-57 fighters clearly indicates that the country is preparing for an armed conflict with a major power. In July of this year, the Russian Ministry of Defense signed a contract with the aircraft manufacturer for the supply of 76 aircraft of this type until 2028. But this, the author of the article is convinced, is only the beginning and in the future the rate of production of fighter jets can increase significantly, which means that the Russian military will begin to purchase even more such aircraft.
The author points out that the Su-57 development program turned out to be so lengthy due to the fact that the fighter used the latest technologies, the development of which takes time. In the end, he adds, "the Russians" turned out to be a plane stuffed with the best technologies that the Russian aerospace industry can offer: powerful engines, brilliant maneuverability, first-class avionics, including radars with an active phased array.
As an example, he cited the development of the Soviet Su-27 fighter, the creation of which took 15 years, but it turned out to be an aircraft that has been in the arsenal of the country's air force for many years and has the potential for modernization. The same thing with the Su-57, which is created "for years to come."
Of course, the expert explains, the defense budget of Russia is by no means comparable with the Soviet, but the Russian military has enough money to develop new products and therefore it is not necessary to neglect the batch of Su-76 fighters in the 57 against the background of hundreds of F-35 coming into service USA and NATO. After the country's Air Force receives and tests the first of these aircraft, the contract may be amended. And in the event that Russia finds a foreign buyer for it, the cost of these machines will decrease significantly, which will lead to an increase in supplies to the Russian army.