Hero and sacred sacrifice?
On September 10, in Izhevsk, the capital of Udmurtia, near the building of the State Council of Udmurtia, Albert Razin, a scientist, candidate of philosophical sciences, assistant professor, self-immolated. He was 79 years old, he was known in the republic as an activist of the national movement and a pagan. What happened instantly became the reason for a wide discussion in the media at various levels, which was almost immediately polarized to the extreme.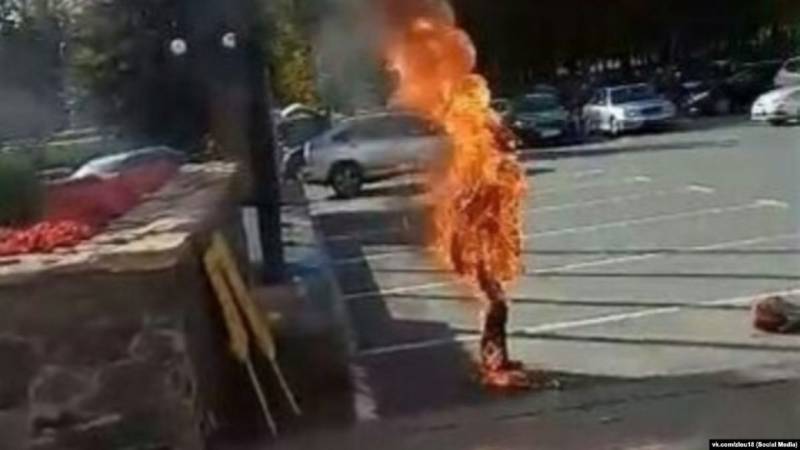 If you look at the responses to the event in social networks, it will become clear: opinions were divided in the range from "abolish all these national republics to hell" to "in this evil empire you can only draw attention to the needs of small nations". And this is probably logical: both fighters for the national identity of small nations and supporters of the abolition of national-territorial formations in Russia have long and openly preached their views. The question, as usual, is whether one particular episode will become a drop overflowing the cup, and if there are no flames somewhere in the Volga region due to problems with learning the native language.
It should be noted that the radicals have already tried to take advantage of the situation. In particular, calls were immediately heard to declare mourning in Udmurtia for Albert Razin. They try to turn the victim of self-immolation into a sacred sacrifice, to make an example to follow. Which, of course, is fraught with very serious consequences.
Frankly, the very act of public suicide, its circumstances caused a lot of rumors and discussions. In particular, there was an assumption that all this was a kind of staged act, as a result of which Razin had to survive and not even get burned very much. In confirmation of the words of witnesses, Razin was allegedly in a mask, he was wearing a lot (several layers) of clothing that was "clearly out of season". Witnesses also mention a certain mask, which, apparently, was supposed to protect Albert Razin's face from burns.
Victim of unsuccessful provocation?
Checking these testimonies now is quite difficult: judging by the photo taken half an hour or an hour before the self-immolation, an elderly nationalist was wearing a shirt and a sweater, no mask was observed. Yes, it could be taken and put on later in the car, but there is one more detail - a suicide note left by Albert Razin. That is, at least he admitted the sad outcome of his action, which means that the language does not dare to call it a "production". There is a self-immolation video on the net, but it's quite difficult to see the details of clothes in a fire torch. Therefore, to draw any conclusions is very problematic.
The act of self-immolation was attended by certain "associates" of Razin - members of the national movement "Udmurt Kenesh." This also raises some suspicions. But according to them, Razin invited them to take his picket - a request, in general, is logical, and as a reason to support an ally is quite serious. Therefore, there is also no special reason for conspiracy theories.
In part, the Udmurt mentality itself speaks in favor of the version of a well-thought-out and deliberate suicide. The fact is that in pagan times (and even after, when most Udmurts adopted Christianity), this people had the custom of tipshar - ritual suicide with the aim of revenge on the offender or to prove his innocence. They say that in tsarist times, Russian officials and gendarmes went crazy because, as a result of a simple quarrel between two Udmurts, one of them could hang himself on the porch of the offender - this was wild and incomprehensible. And now, frankly, we don't understand this ...
Do not want to talk? Let's make it!
If we move away from the circumstances of suicide, it seems that Razin had less reasons for him than representatives of many other nationalities. Be that as it may, Udmurtia is a republic within the Russian Federation; the Udmurt language is not oppressed in any way; there are hundreds of thousands of native speakers in the republic. Another thing is that the Udmurts themselves prefer to speak Russian, and this is especially true for young people. It is difficult to understand who to blame for this: perhaps there is some kind of "imperial pressure", but it is much more likely that native speakers themselves understand the archaic and backwardness of one or another language of national minorities. Indeed, this problem concerns not only the Udmurts - a similar situation is in the relatively prosperous Tatarstan, and in Chuvashia, and among other nationalities of the Volga region, Siberia and the Far East.
And when the native language itself is not really needed by its native speakers, the requirements include introducing compulsory instruction in the national language, announcing stops in it on transport and a lot of similar ideas, designed not only to develop the language, but to plant it.
Perhaps one of the problems is precisely the current political correctness. We are so afraid to offend the national minority with the question "Do you need your language?" Or with a study on its functionality, flexibility, ability to more or less fully convey the picture of the modern world! The simplest question: is it possible to master a modern profession without going beyond the boundaries of a particular language? And the answer, most likely, will be disappointing: even Russian willy-nilly has become a hostage to our technological backwardness, scientific exchange and cultural influence of other countries and peoples. What can we say about languages ​​that for decades have been used at best only for everyday communication?
So people move away from languages ​​that have virtually no applied value. And no matter how much they say that it is useful and honorable to know several languages, but they have less and less desire to spend time and effort on something that is unlikely to be very useful to you in life.
No, this is not at all a reason for gloating. As a person who is worried about the state of the Russian language, I can quite understand those who are worried about another dialect - "small, but their own", as the song says. But we cannot endlessly go on about all kinds of local nationalists, therefore, the practice of imposing national languages ​​on all the inhabitants of a particular republic, which had existed very recently, should be completely eliminated. To someone who wants to return it even at the cost of his own life, we can only sympathize and move on. Enough already: nobody forbids us to study our native languages, let alone speak them. And if someone instead of hard work in the field of enlightenment and education chooses the language of ultimatums or even suicides - well, then it's freedom, you won't live by force ...
Still, the national question, the linguistic issue is extremely important. And you need to speak honestly about this topic. Otherwise, big problems are possible, as, for example, with Ukraine. For decades, there has not been a competent and honest linguist who would have demanded that one of the Russian dialects cease to be called a separate language, and therefore it is not surprising that in the end there are myths about the "most beautiful", "the most melodious", about the "nightingale mov", which is where how beautiful this "Muscovite bastard."
Therefore, let Albert Razin rest in peace, and we will mentally thank him for raising the topic of language again. For us Russians, it is also very important. And it's time to start talking honestly about it.