The president of this country, the leaders of Russia and Iran met in Turkey, who held a meeting in the so-called Astana (at the place of the first such kind of discussion) format on the issue of resolving the situation in Syria.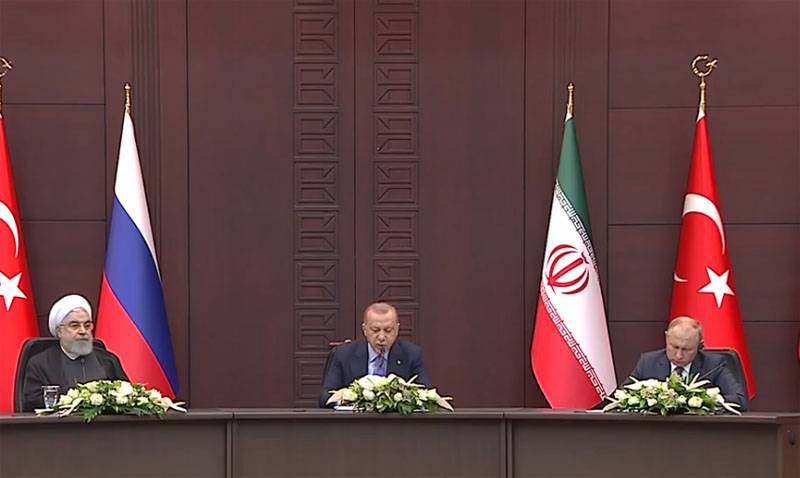 According to Vladimir Putin, it is necessary to focus on helping the country overcome the consequences of the war, build the functioning of political institutions and prevent the separation of the ATS into zones of influence.
According to the Russian president, the situation in northeast Syria is causing extreme concern today. There, we recall, the United States actually created a zone of occupation and in every possible way impede the transition of these territories to the control of the Syrian government.
Vladimir Putin in Ankara noted that the joint activities of the Russian Federation, Turkey and Iran greatly contributed to the fact that the level of violence in Syria significantly decreased, so that people began to return to their cities and receive humanitarian aid.
Iranian President Hassan Rouhani, in turn, called on Western countries to abandon provocations in Syria and begin full-scale work to establish peace in that country.
As a result, the presidents of Russia, Turkey and Iran supported the idea that Syria should be perceived solely as an indivisible independent state, in which it is time to move on to political processes, including the possibility of convening a constitutional assembly that would reflect the interests of all segments of the population of the ATS.
In the United States, the meeting of the three presidents with the discussion of the Syrian issue was (traditionally) skeptical, saying that they accept the Geneva format exclusively. The whole problem is that the Geneva format for all the years of its existence has shown complete incapacity for resolving the conflict in the SAR. Perhaps this was Washington's task? ..