US forces deployed new container MLRS M270A1 to Europe. About this writes the publication Defense blog.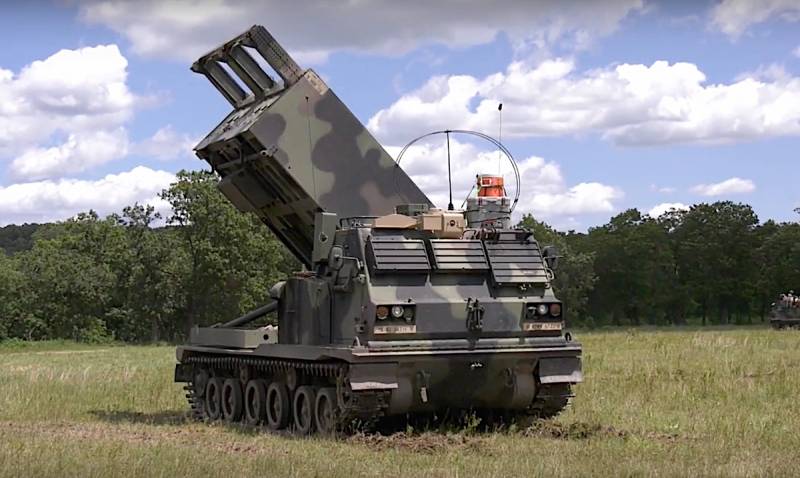 The United States Army has announced that it will deploy M270 MLRS, or MLRS systems in Europe, as well as several support vehicles. The machines were at the disposal of the 41th Field Artillery Brigade. This is the only US missile artillery brigade in Europe.
According to available information, the party that arrived in Grafenwöhr, Germany, included at least 16 multiple launch rocket systems M270A1. This machine is a development MLRS M270, which entered service with the U.S. Army in 1983 year.
The difference between the M270 complex and most rocket-launch systems is that it has no guides. Missiles launch directly from containers. Each disposable container holds 6 missiles. Missiles can be stored in containers without maintenance for up to ten years. The tractor carries two such containers with a total number of 12 missiles.
The containers use MGM-140 ATACMS missiles. Mounted on the Bradley chassis, an upgraded launcher includes an advanced fire control system (IFCS). The range of ammunition used includes GPS-guided missiles.
Without leaving the cockpit, a crew of three - a driver, gunner and calculation commander - can issue up to 12 MLRS in less than 60 seconds at a distance of 160 km.
Missiles can be launched either individually or in multiple launch rocket mode, from two to 12. Accuracy is maintained in all shooting modes, because the computer makes corrections between salvos. The MLRS computerized fire control system allows loading and unloading the launcher to a reduced crew or even one soldier. Fire can be conducted manually or in automatic mode.
M270A1 can launch various types of missiles, including long-range (ER) missiles, short-range training missiles (RRPR) - from 8 km to 15 km and AT2, which can give a one-time volley of 28 anti-tank mines.
The latest M270A1 upgrade received an armored cab. On a number of MLRS also installed 7.62-mm machine gun. The maximum speed of MLRS on public roads is 64 km / h, range - 483 km. An advanced mechanical start-up system (ILMS) accelerated the reload speed by 50%, and the transition speed from traveling to combat position by 70%.