The plane of the President of the Russian Federation Vladimir Putin today landed in Dagestan. The Russian leader flew into the region to pay tribute to the events of 20 years ago - then the inhabitants of the region fought back the militants invading the republic under the command of Shamil Basayev and Khattab.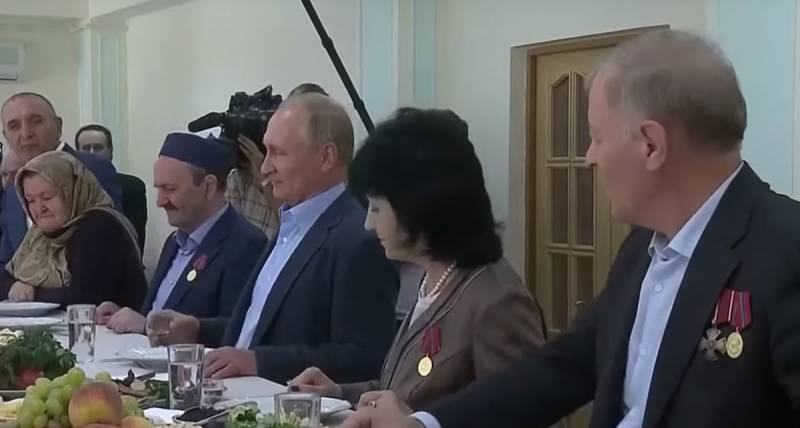 Russian leader Vladimir Putin flew to Makhachkala. The first item in the program of the president's visit to the region was a visit to Botlikh, in which Putin met with militias who took the first blow of the terrorist groups Basayev and Khattab who invaded Dagestan from Chechnya.
Recall that the events that served as the beginning of the Second Chechen War occurred in the period of August - September 1999. Vladimir Putin, who was the prime minister at that time, came to lay a wreath at the monument dedicated to those events and talk with militias.
According to the Federal Security Service, in the course of repelling the attack, 280 soldiers, security forces and civilians were killed, about 800 people were injured of varying severity. 70 participants went to trial, 7 of the militants who escaped death during the clashes were subsequently found and destroyed.
As the
RBC
, in April, the FSB detained two former Basayev gang fighters - Takhir Begeldiev and Nariman Otepov. Also in May of this year, the Dagestan Supreme Court sentenced another terrorist, Rizvan Mulasanov, to the 13 years of the maximum security colony for involvement in an armed rebellion in the territory of Novolaksky District.
During the visit of the 1999 year, Vladimir Putin, raising a toast, did not drink a glass of vodka, promising to finish it with the militias after the conflict ended. On the June direct line, the president was reminded of a promise. Today, during a meeting with participants in the events of those years, the Russian president raised a toast for the events of those years, but this time he finished the cup. Putin also laid flowers at the memorial to the fallen soldiers.
Said done. 20 years later, Putin drank a glass of vodka with militias in Dagestan pic.twitter.com/bJmH5BGTLc

- Kremlin pool RIA (@Kremlinpool_RIA) September 12, 2019
During the direct line, it was also proposed to equate militia participants with war veterans. This request was fulfilled in August, when the president signed the corresponding document. The law provides for various kinds of benefits, including housing and communal services, as well as cash payments and the right to disabled status of hostilities.
As a result of the events of those years, 8 combatants became Heroes of Russia, and 16 received medals "For Courage". 106 militias became holders of the Order of Courage, 42 were awarded medals of the Order of Merit to the Fatherland, II degree.