On the sidelines of the International Aviation and Space Salon MAKS, the staffing of the unusual landing mode of the fifth-generation multifunctional fighter was confirmed. This was stated by the director of the Sukhoi Design Bureau and the Chief Designer of Su-57 Mikhail Strelets.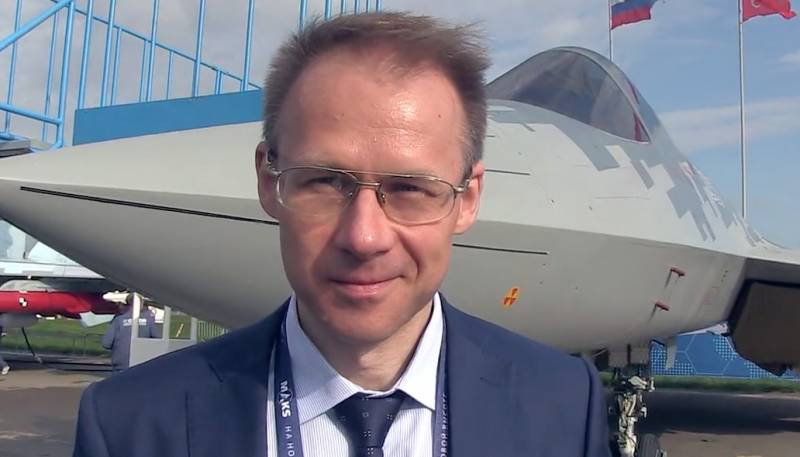 The Russian International Aviation and Space Salon MAKS-2019 once again brings fresh information about the latest aircraft industry. So, the designer of the Su-57 Mikhail Strelets, in communication with reporters, explained the reasons for the unusual landing of the Su-57 with released brake parachutes.
The release of the brake parachute allows for a short landing area. This is the standard mode, in which the Su-57 can sit on a shortened or destroyed lane.
- Sagittarius explained in a video published by airline journalist Alexander Yaskevich (belenkur).
According to the designer, the parachute is released at an altitude of 2-3 meters.
Knowledgeable people immediately understood everything.
- Mikhail Strelets noted with irony, discussing the numerous comments of this landing: in them, users of social networks expressed opinions that the landing turned out to be contingent.
The non-standard landing of the Su-57 was recorded at the airfield in Zhukovsky two days earlier. Its peculiarity was that the plane did not release the parachute when the landing gear did not touch the surface, but a few meters above the ground.
Custom full-time
Instructor pilot Andrei Krasnoperov, commenting on the plane's landing for the Vzglyad newspaper, noted that such a landing was prohibited according to the instructions — the fighter had to touch the runway with the first wheel and have a stable mileage. Krasnoperov suggested that a test pilot was most likely at the helm - and pilots of this class are usually allowed more than ordinary pilots.
At the MAX-2019, the Su-57 was first introduced to the general public in a static parking lot. In addition, an export version of the Russian multi-functional fighter was presented.
In particular, Ankara showed interest in the car. Turkish President Rajep Erdogan, together with Russian leader Vladimir Putin, inspected the plane, after which the head of the Turkish Republic asked if it would be possible to buy a plane.
In addition to the interest in buying the Su-57 and Su-35, Turkey is considering a possible joint development of a fifth-generation fighter based on the Turkish concept aircraft TF-X.