At the MAKS-2019 International Aviation and Space Salon, which started today in Zhukovsky, Rostec Corporation presented a modernized version of the Mi-24P-1M transport and combat helicopter. This was reported by the press service of the state corporation.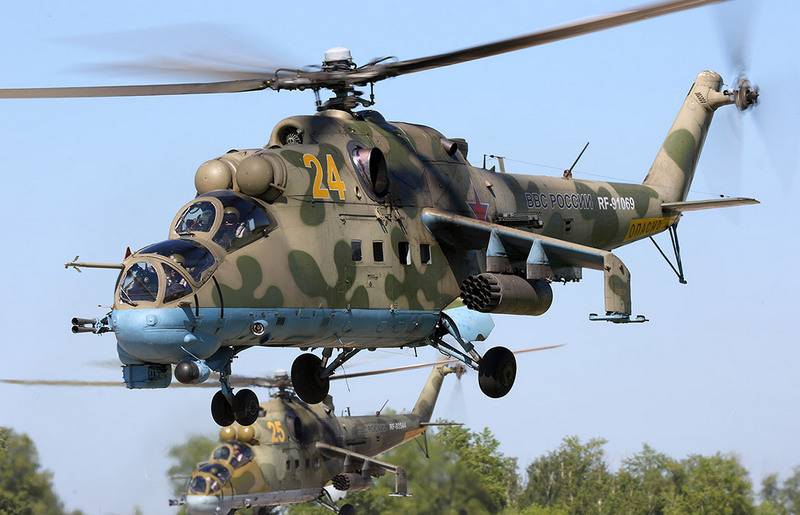 According to Rostec, during the modernization, the Mi-24P-1M helicopter received a modern unified aerobatic sighting and navigation system, a new optical-electronic sighting system, an autopilot, a new airborne defense complex and a radar with AFAR. At the same time, due to the use of modern digital technologies in equipment, it was possible to reduce the mass of an empty helicopter by 430 kg.
In addition, the modernized Mi-24P-1M significantly expanded the list of weapons used by introducing various types of guided missiles into the armament.
The upgraded Mi-24P-1M helicopter in its combat effectiveness is not inferior to modern helicopters of the latest generation. New electronics allowed to increase the combat survivability and impact power of the helicopter
- the press service of the state corporation said.
Mi-24 (according to NATO classification: Hind - "Lan") - Soviet / Russian attack helicopter developed by the Design Bureau M. L. Mil. The unofficial name is "Crocodile". The serial release began in 1971 year. The Mi-24P model differs from the base Mi-24 model by the presence of the GSH-30K gun placed on the starboard in the fixed installation НПУ-30. The serial release began in 1981 year. Exported as MI-35P.
The helicopter is designed for the transfer of units of the ground forces, the evacuation of the wounded and fire support on the battlefield.