An automated line assembly line was launched at the Aviastar-SP Ulyanovsk Aircraft Plant, which will significantly accelerate the production of Il-76MD-90A heavy military transport aircraft and its modifications. It is reported by RIA
News
with reference to a source in the aircraft industry.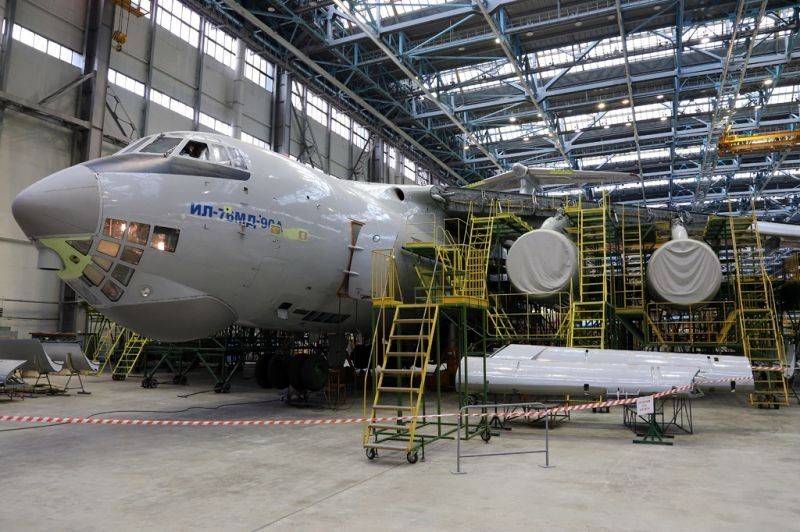 According to the interlocutor of the agency, an automatic assembly line has been launched and the assembly of aircraft on new equipment has already begun.
Installation of the largest automated production assembly line in Russia for aircraft was started at Aviastar-SP in November last year. Two robotic stations were mounted at the enterprise, each of which automatically docked the fuselage, wing and tail sections, as well as six automated stations for installing systems, a power plant and workshop processing.
The advantage of using such technologies is that significantly reduces the time of operations on individual sections of the line. Accordingly, the time required for the complete assembly of the aircraft is reduced.
The final assembly line (...) consists of several stations providing complete assembly of the aircraft. One of the most important is the docking station for the fuselage compartments and the assembly of the airframe, which include stands of the Russian-made unstacked automated assembly. Automation reduces fuselage docking and glider assembly time. (...) will reduce the complexity of docking
- says the website of the Ilyushin Aviation Complex.
As previously reported, this year the Ulyanovsk aircraft manufacturers handed over to the Ministry of Defense two serial IL-76MD-90A after a four-year break, the third transport carrier undergoes a set of tests.
The press service of Ilyushin noted that it was planned to transfer five new military transport planes Il-2019MD-76А to the Ministry of Defense in 90. In total, the Russian military department plans to purchase up to 2030 of the year over 100 of these aircraft, as well as fuel tankers based on them.
The heavy military transport IL-76MD-90A is a profound modernization of the IL-76MD aircraft. The new IL-76MD-90A, unlike the drill IL-76MD, is equipped with PS-90A-76 engines with a thrust of up to 14,5 tons instead of the "standard" D-30KP2 with a thrust of up to 12 tons. At IL-76MD-90A, the carrying capacity increased to 60 tons and the range of delivery of troops and cargo - up to 5000 km.