Twenty years of stability worse than fascist bombing?
At a meeting on health issues held on August 20th, we were surprised to learn that things are not going very well in this sector, to put it mildly. And from whom they learned - from Vladimir Vladimirovich himself! Usually calm and calm, this time he could not restrain himself and said a few harsh words on this issue:
If the primary link of health care in our country is in the condition it is still in, the number of heart attacks and strokes will not decrease.
Of course, for medical officials, it became like a bolt from the blue. After all, it's clear that there's nothing to blame them for - the sanctions and the damned bourgeoisie, who carried out a planned "optimization" of this very "primary link" for a good two decades, are to blame. Well, as expected, we've optimized ...
Minister of Health Veronika Skvortsova, who had to take on the tsar's anger, did not speak, of course, about sanctions and the bourgeoisie, but courageously continued enumerating the problems that the very "primary link" of Russian healthcare faced. According to her, one of the key health problems is the deterioration of funds:
In the primary health care sector, at present 7 thousand 915 buildings from more than 72 thousand are in disrepair and require demolition, reconstruction or major repairs. To date, more than 7 million square meters are subject to major repairs in the primary care. m health facilities
Also, everything is bad with equipment that is either outdated, or almost worn out, or simply requires replacement:
As for medical equipment, its depreciation increased from 20 to 40%. And now it is already more than 20 thousand units that require replacement. And we don't talk about all medical devices, we only talk about heavy equipment - these are different versions of digital X-ray machines, digital fluorographs, mammographs, ultrasound machines, endoscopic equipment and laboratory complexes
Yeah ... After all, everything was so stable, and the money did not know where to hide. And the results are worse than during the Great Patriotic War ...
But we learned millions of "economists" and "managers" ...
The Minister of Health also complained about the personnel problem, which is already chronic. According to the data she voiced, the primary sector lacks approximately 25 of thousands of doctors. And with the paramedical personnel in the country, it's just awful - the shortage is about 130 thousand people. The situation has not been saved by the efforts of recent years, including the once widely publicized Zemsky Doctor program.
We add from ourselves that remarkable initiatives, including presidential ones, to increase the average salary of doctors to the level of 200% of the average industry in the region, are either successfully sabotaged by the regional authorities, or even cause further "optimizations". So, Putin's decree on the mentioned level in 200%, according to 2019 year data, is carried out only by the 4 region throughout the country. But very often its "fulfillment" is achieved precisely with the help of the notorious optimization - the amount of allocated funds does not increase, the regional authorities tritely reduce a certain number of health workers and share the freed money between the remaining ones.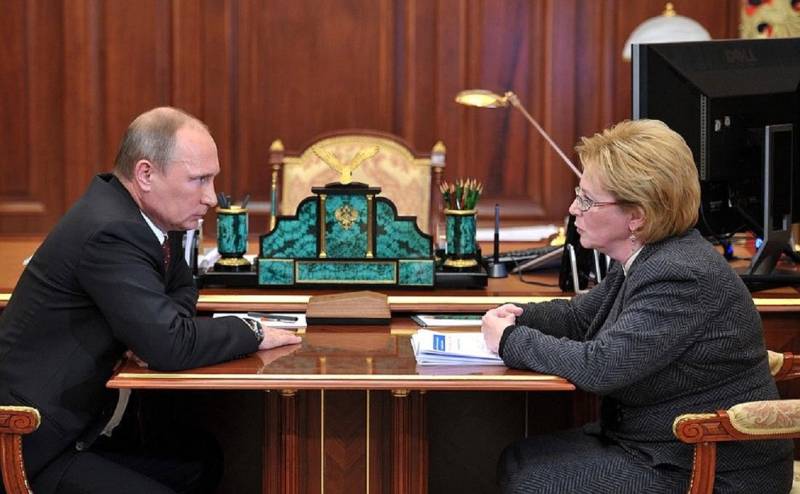 Putin himself was forced to state that, in accordance with the national project "Healthcare", 1,367 trillion was allocated to the industry. rubles. "The money is huge, the results are dubious," he stated.
Let's take courage and fix our "guarantor" - the results are disgusting. Russia has truly become an endangered country. Yes, the roots of many problems were laid long ago, long before Putin, but he also had enough time to reduce the severity of many of them to some tolerable indicators. Well, a lot, in particular, the results of these very optimizations, you just had to prevent ...
Alas, over the years of Vladimir Putin's presidency, the number of hospitals in Russia has dropped to about five thousand. By their number, modern Russia lags behind the RSFSR 1932 of the year! But we have something to strive for - if we reduce another two thousand hospitals, we can return to pre-revolutionary times!
True, then tsarist Russia was not the last in Europe and the world in terms of health care. But more than a hundred years have passed since then, and the standards, of course, have changed a lot!
Another interesting figure appeared at the meeting - up to 500 settlements in the country are generally beyond the reach of this primary medical care. The figure is large, because in each of these settlements people live - sometimes tens, sometimes hundreds, and sometimes thousands. But nevertheless, this figure is from the evil one - everything is much worse if you remember how many settlements Russia simply lost over the past decades. Moreover, often precisely because of various kinds of criminal "optimizations" - in healthcare, education, administration ...
What if the reformers offer us to sit on the "macaroni"?
Yes, according to various estimates, over the past decades in the Russian Federation, from 23 to 34 of thousands of settlements have disappeared from the map. Some of them, we will be objective, disappeared for some objective reasons, no matter how strange it may seem. But many thousands disappeared precisely because of the "reforms" mentioned above, when residents, who were literally face to face with the problem of educating their own children and saving them in case of illness or injury, tried by any means to move closer to civilization.
Probably, I will not "hang all the dogs" on the Ministry of Health and personally Veronika Skvortsova - according to people close to medicine, she often raises relevant questions at various meetings. But, as they say, things are still there: the government is busy with much more important things, and while the president does not personally crack, no one is trying to be particularly active there.
Alas, one of the problems that led to the current depressing state is the fragmentation of our medicine. It seems that every village will soon have its own "Minister of Education." Yes, only these "ministers" talk more and more about "macaroons" and receive financial assistance from the budget (they don't want to sit on macaroons). And is it possible that in order to carry out local health care reform properly, a small medical reform is necessary first? And then there are no qualified doctors, let the "ministers" go to work in their profile to the district clinic ...
And what? Good offer. Actual and inexpensive. Again, in the spirit of the times, we are optimizing officials from medicine, turning them into therapists and endocrinologists ...
Alas, the hope that Putin's "fly" will be a saving pill for our health care is too weak. Somehow, the confidence is growing that our officials are no longer afraid of him, dreaming of only one thing - to sit out on the day when Vladimir Vladimirovich in his place at the galley oars will be replaced by someone else. Anyone else twenty years old will be able to hang something on their ears.
But still, let's not be discouraged: officials, of course, will not change, but what if it will be a good lesson for Putin himself? After all, everywhere we spit, everywhere "Money is huge, the results are dubious" ...