The new Varshavyanka class diesel-electric submarine has passed the next stage of factory tests, having successfully dived. This is stated in a message distributed by the Admiralty Shipyards.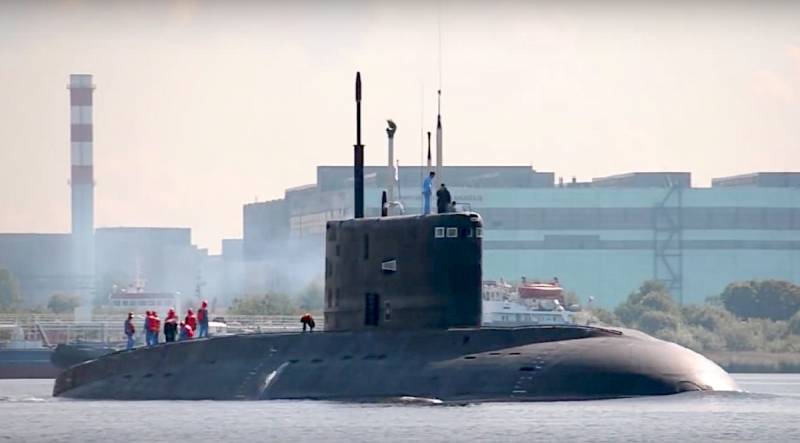 "Admiralty Shipyards" reported the first submergence of submarines of project 636.3 "Petropavlovsk-Kamchatsky". The submarine, which is a modernized version of Varshavyanka, should become the flagship in the new Pacific submarine crew
fleet
Russia.
One of the features of these factory tests was that the Admiralty Shipyards plan to complete them in one step, without the additional return of Petropavlovsk-Kamchatsky to the plant.
The submarine was launched on 28 on March 2019 of the year, and on tests 16 went on August. The boat should be checked at the ranges of the Baltic Fleet and the Leningrad Naval Base. During the test, the functionality of the boat is checked both in the surface and underwater position, the tests are carried out by life support systems, communications and navigation.
The program includes speed and maneuverability tests, as well as dives. After the implementation of the program, the ship will return to the factory in preparation for state tests that precede the transfer to the Russian Navy.
- noted in a press release posted on the manufacturer's website.
Armed and dangerous
The Petropavlovsk-Kamchatsky submarine was laid down on July 28 2017 of the year. In parallel with it, the Volkhov submarine of the same 636.3 project fell onto the stocks. It is noted that the second submarine is in a high degree of readiness.
The contract concluded by Admiralty Shipyards JSC with the Ministry of Defense of the Russian Federation on September 7 includes the construction of six submarines of this type in the interests of the Pacific Fleet of the Russian Federation.
Submarines of the 636.3 project are the third generation of Varshavyanka submarines. They inherit from the 636 and 877 projects. They are considered one of the quietest boats in the world.
The designer, Rubin Central Design Bureau, in accordance with the instructions of the military department, made a number of improvements to the submarine systems in order to improve the technical performance and crew comfort compared to previous Varshavyanka class submarines.
The crew of Petropavlovsk-Kamchatsky consists of 52 people. The speed of the submarine under water is 20 knots, the maximum immersion depth is 300 meters. The boat is able to go into autonomous navigation for a period of 45 days. Underwater displacement - about 4 thousand tons.
The 636.3 project boats are equipped with the Caliber missile system. They have six torpedo tubes, ammunition - 18 combat units of torpedoes, mines or missiles.