A court in the United States issued an arrest warrant for the Iranian tanker Grace 1, detained by the Royal Marine Corps in Gibraltar and released the other day. This is stated in a document published on the website of the United States Department of Justice.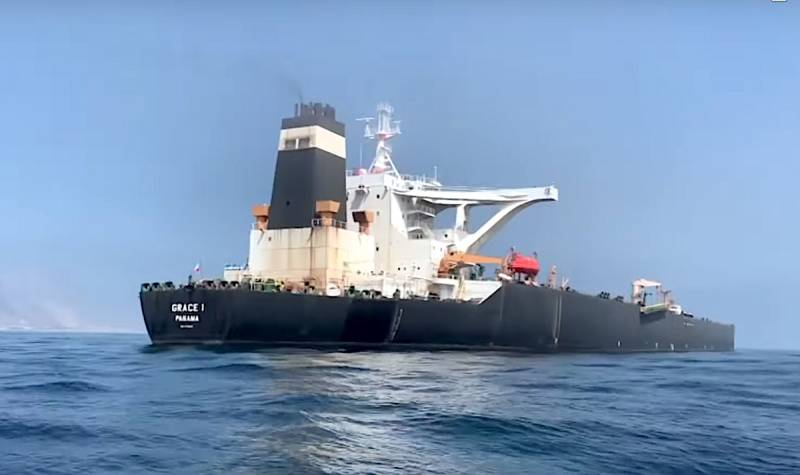 The Iranian oil tanker Grace 1, which has on board oil in the amount of 2 million barrels, as well as 995 000 dollars, are to be confiscated on the basis of a complaint from the US government, said Columbia District Attorney Jesse Liu in a press release posted on the US Department of Justice official communications portal .
In a statement, Washington cites a violation by the Iranian side of the American Law on International Extraordinary Economic Powers (IEEPA), the Bank Fraud Act and the Money Laundering Act, as well as the law on confiscation for activities related to terrorism.
On July 4, the tanker was captured by the British Royal Marines in the western Mediterranean on suspicion of violating EU sanctions. His team was suspected of delivering oil to Syria.
The tanker was sent to Gibraltar and stayed there until Thursday, when by decision of the court he was released. According to published data, the ship's captain signed a guarantee that the oil on his ship would not be delivered to Syria.
In turn, the press expressed the opinion that the release of Grace 1 was connected with a secret ship exchange deal: on July 19, Iran detained a British tanker along with the crew and, according to diplomatic sources, was ready to release it only after Grace 1 released.
The charge is terrorism
Washington tried to detain the Iranian tanker on the grounds that it is associated with the Islamic Revolutionary Guards Corps in Iran (IRGC), which is recognized by the United States as a terrorist organization.
The scheme involves several parties associated with the IRGC. A network of shell companies allegedly laundered millions of dollars during such shipments.
- the prosecutor reported.
As mentioned earlier, Gibraltar overturned the order to detain the tanker on Thursday, but the ship's fate was complicated by Washington's demand to detain the ship, which appeared shortly before the trial for his release. Despite the fact that the arrest was removed from the ship, it is still anchored off the coast of Gibraltar, and it is still unclear whether it is ready to sail in the near future.