The latest Turkish anti-ship missile (ASM) Atmaca will be tested from the side of the MILGEM Project Corvette F 514 Kinaliada (type Ada), being built in the interests of the Turkish Navy. The new AKP launchers have already been installed on board the ship.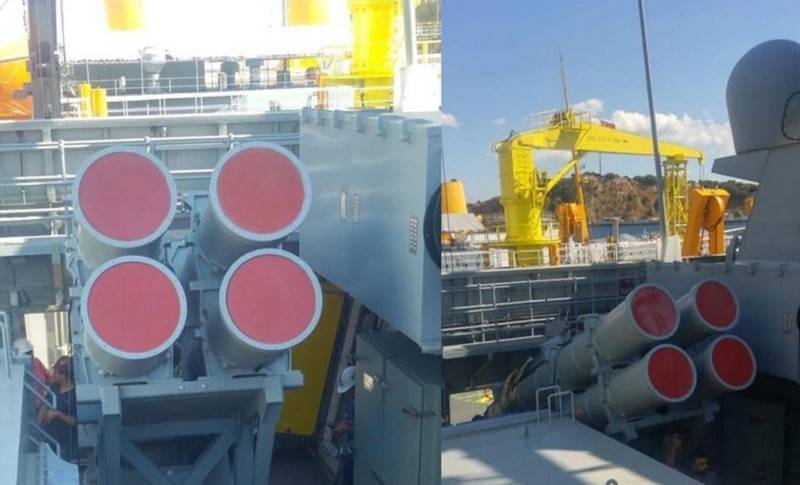 The fourth production corvette F 514 Kinaliada will be the first ship to receive the launchers of the new Turkish Atmaca anti-ship missile. On the ship, which is planned to be adopted by the Turkish Navy before the end of this year, two launchers for four missiles each have already been installed.
The development of Atmaca anti-ship missiles ("Hawk") was launched in 2005 at the request of the Turkish Navy. The work is carried out jointly by the state-owned company Roketsan and Aselsan. The first is responsible for the development of the rocket itself, the second for the control system and the active radar homing head.
According to available information, the new anti-ship missile is a subsonic one, equipped with a Safran (Turbomeca) TR140 turbojet engine and a solid fuel starting booster. In the future, the engine should be replaced by the Turkish small-sized turbojet engine KALE 3500.
Outwardly, the Turkish missile is similar to the American Harpoon anti-ship missile, the only difference is in the design of the rudders and stabilizers. Even the Atmaca launchers resemble American ones. The missile is equipped with an active radar seeker, as well as an inertial-satellite guidance unit and two-way data transmission equipment. The claimed destruction range is 250 kilometers.