A photograph appeared on the Internet from the cockpit of a Nile crocodile attack helicopter. 46 Ka-52 are currently one of the most advanced vehicles in service with the Egyptian Air Force.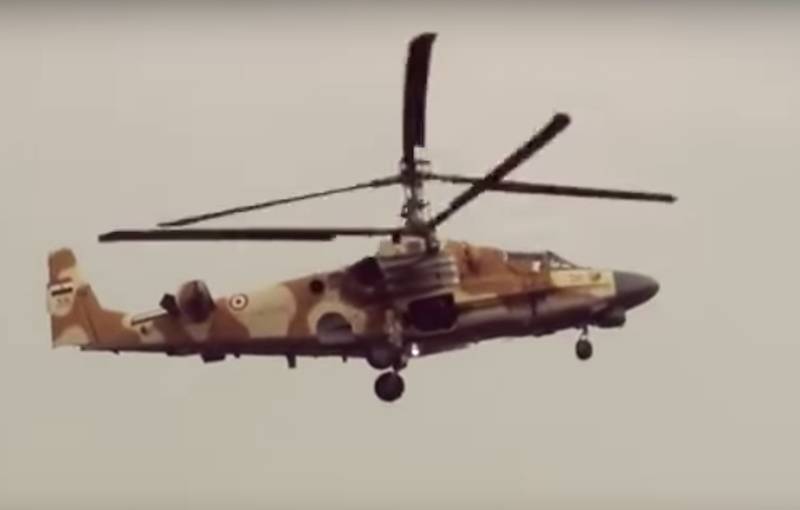 A photo taken from the cockpit of the Ka-52 attack helicopter Nile Crocodile was published on social networks. The frame shows how a helicopter, accompanied by a similar machine, flies over the desert.
The Nile Alligator (Crocodile) is the Alligator version of the Russian Ka-52 helicopter designed for the Egyptian Air Force. In 2015, Cairo purchased the Mistral universal landing ships built for the Russian Navy. The ships were adapted for the use of Ka-52 Katran helicopters - a marine version with folding blades and improved anti-corrosion properties.
Cairo then signed a contract with Moscow for the supply of 78 cars: of the 32 were decked, and 46 were special versions designed for the climatic conditions of Egypt and the Middle East. They also received the name "Nile Crocodile".
In September 2016, Egypt and Russia signed an agreement according to which the initial composition of 30 Egyptian pilots and 70 ground crews was to train in the Russian Federation.
The helicopter is widely used anti-corrosion materials. Also, additional cooling systems are installed on the machine, the fuselage structure is reinforced. In addition to everything, as a measure to reduce flight weight in hot climates, the designers of the machine managed to reduce the weight of the chassis.
The machine is equipped with an optoelectronic targeting system OES-52. In addition, the helicopter's equipment includes the President-S missile system and Arbalet-52 radar. A helicopter can detect ground targets at a distance of up to 25 km, airborne targets - up to 15 km.
In early June 2019, the Egyptian Air Force announced that the Ka-52 officially became part of the Air Force. It is known that some of the cars were located at the Wadi al-Jandali airbase (Al-Katamiya / Al-Hatamiya). The airfield is the home of the 550 Assault Helicopter Brigade, whose 51 Squadron is equipped with the AH-64D Longbow Apache.
Despite the fact that deliveries were ahead of schedule, the Ka-52 Nile Crocodile experienced technical problems during its commissioning. According to media reports, the engines lost power in various flight modes, there were also problems with night vision and navigation systems, as well as other avionics.
It was reported that these issues were at the heart of Egypt's decision to buy 10 AH-64E Apache Guardians. It was then that the manufacturer was actively engaged in eliminating the shortcomings, using the experience of the Syrian campaign. Judging by the statement of the Egyptian Air Force on the inclusion of helicopters in their composition, Kamov managed to overcome the shortcomings.