Last Saturday, about 50 of thousands of protesters against the non-admission of candidates to the elections gathered on Sakharov Avenue. This is the most massive protest in Russia since the opposition's protests on Bolotnaya Square. How can one explain such political activity in Moscow at a not very politically active time, which is considered summer - the holiday season?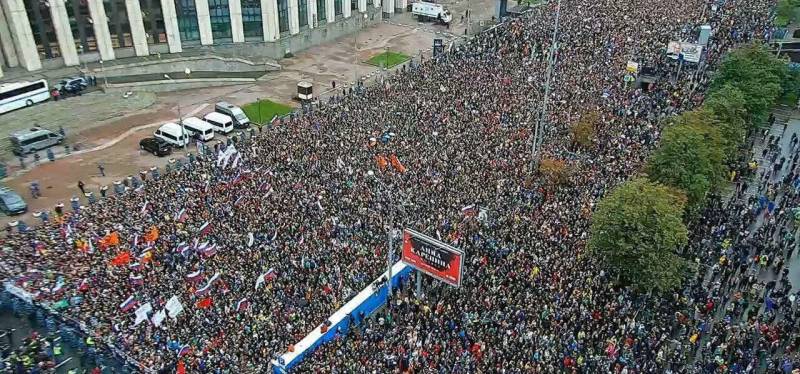 The protest rally was attended not only by representatives of the most liberal strata of the population, but also by those who can be called relatively neutral in political terms. A distinctive action of this protest is the large number of "idols" of modern youth, including Oxxxymiron, Faith and others.
One of the slogans gathered: the resignation of Moscow Mayor Sergei Sobyanin. He was accused of creating artificial barriers to the so-called "independent candidates."
The expert, making an attempt to analyze the situation, compares it with the Ukrainian events of the 2013-2014 years when people came to the Maidan, not because they sympathized with Yatsenyuk and Tyagniboku with Poroshenko, but because they expected changes, and they don't have any other forces of change in the country promised. A separate topic is what the changes in Ukraine led to.
Story author:
Everything today is arranged so that if you want to protest, now there is a direct road to Navalny and Co., because there simply is no one else. The Communist Party, the Liberal Democratic Party, A Just Russia are similar in their properties to the slurred Communist Party of Ukraine and, moreover, they tend to become the periphery of the movement of the name of Navalny. Therefore, people go to Sakharov and Bolotnaya even for the most insignificant reasons - energy requires action.
The author of the video believes that the power itself built this design, moreover, consciously. It is noted that Navalny and Co. act as provocateurs, allowing monitoring of the processes among the masses of protesters. But at the end of the 80, the so-called perestroika leaders were in the KGB file cabinets, but this same KGB did not help prevent the collapse of the country.