France again raised the issue of payments on Russian bonds of the tsarist times. The corresponding request to the French government was sent to the French National Assembly deputy Francis Vercamer, writes
RT
.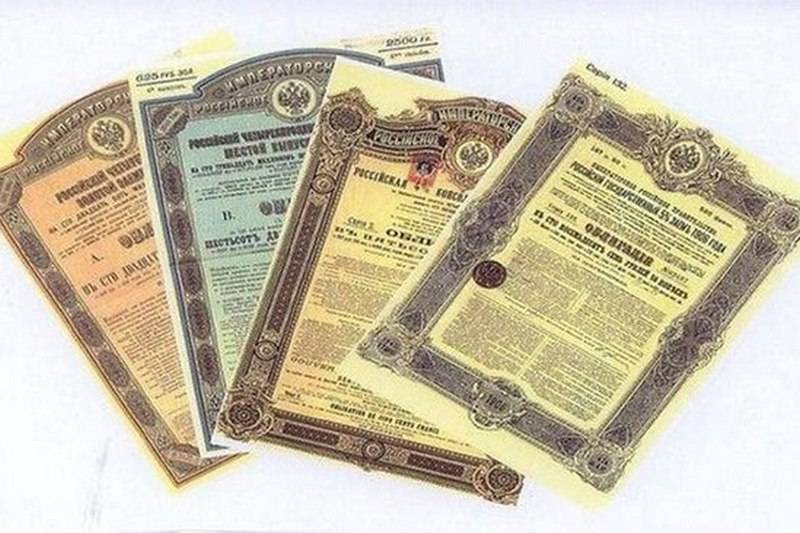 Verkamer called on the country's government to clarify what measures it (the government) is taking in order to "finally resolve" the issue of payments to France on bonds of the tsarist times. However, he states that the payments to Russia, which she agreed to make in 1997, "do not correspond to the real amounts of securities."
After more than a hundred years, the grandchildren and great-grandchildren of ruined bondholders continue to demand a return on invested money. Despite an agreement of May 27 on May 1997, under which the Russian government agreed to pay 400 million dollars, bondholders remain injured
- he said.
According to Verkamer, the descendants of investors are going to find out what decisions the government can take in order to "pay accounts payable."
Recall that in the 1867 year Russia began a boom in the construction of railways and some companies issued government bonds secured by gold, which were invested, including by French investors, having bought approximately 15 billion francs of securities for 15 billion francs (53 billion . Euro). Many managed to make a profit, and some were left with nothing after the new government annulled all debts remaining after the previous one in 1918.
However, after the collapse of the Soviet Union, Russia agreed to pay 400 million dollars to France to cover the debts of the tsarist empire, after which the parties concluded an agreement in which they reflected that Russia owes nothing more to France.
At the beginning of the 2018 in Paris, they were assured that France had no complaints against Russia regarding tsar's loans, but they could not prohibit the country's citizens from making their own demands.