In Russia, there are already developed projects of heavy ekranoplanes that could effectively deal with forest and other major fires. This was announced by the general designer of the Central Design Bureau for hydrofoil ships to them. R. E. Alekseeva George Antsev.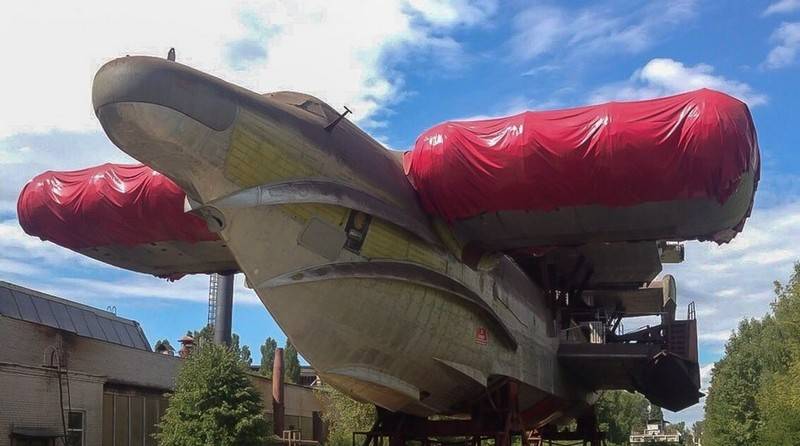 unfinished ekranoplan "Rescuer" (C-33) of the project 09037 photo 2016 of the year
According to Antsev, currently there are several proposals for the construction of ekranoplanes of the Rescuer series, which could be used to extinguish large forest and other fires. The advantage of such an aircraft is its ability to take on board up to 200 tons of water, while the IL-76 raises only 40 tons. In terms of the amount of water discharged, one "Salvator" flight will be equal to five sorties of the Il-76 or 17 - Be-200 amphibious aircraft.
If we talk about fires, we have serious work on the development of the ekranoplan "Rescuer", where we go to tonnages from 500 to 700 tons. We have a series of proposals for the construction of ekranoplanes, where you can already talk about the tasks of fire fighting
- he said.
Antsev also explained that using an ekranoplane as a fire extinguishing means saves time - he is able to draw water directly from rivers and lakes, and not to pump from fire engines at airfields. In addition, the ekranoplan is unpretentious to places of temporary parking, it can be based directly on the water or go ashore with a slight slope.
At the same time, he emphasized that the ekranoplans will not become a panacea for extinguishing fires, but they can become an effective tool for localizing large foci of fires.