The information on the first full-fledged flight test of the Russian shock heavy drone "Okhotnik" was confirmed. He flew into the air on August 3, and the flight itself lasted more than 20 minutes.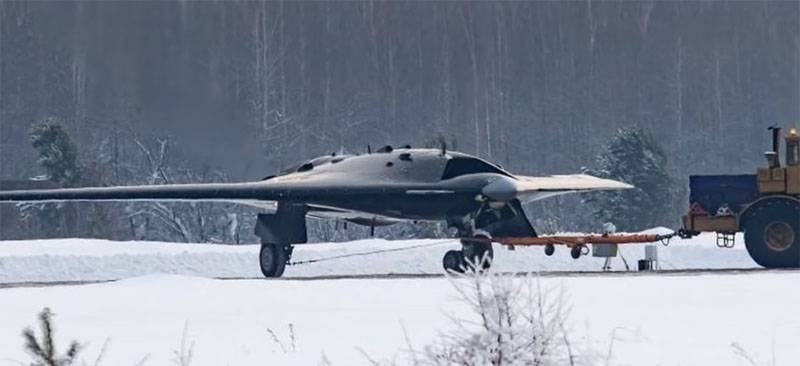 It is noted that UAV control was carried out from the ground. The maximum flight height of the C-70 Hunter was 600 m. He made several overflights of the airfield.
Now, according to the news agency
TASS
referring to the Ministry of Defense and industry representatives, new flight tests are being prepared with the complication of flight missions. In particular, the material indicates that by the end of the year it is planned to carry out three flight tests, and one of them should be carried out in a completely autonomous mode - the drone will not be controlled by the operator. In this version, the drone will be fully controlled by the program in which the flight mission is embedded.
Previously (respectively, also until the end of the 2019 year), the "Hunter" will fly into the air in a partially autonomous mode, in which only a few basic commands will be received from the operator by the board.
Recall that the C-70 "Hunter" has a take-off mass of about 20 tons, made in the form of a "flying wing" with anti-radar (reducing the visibility of enemy radar) coating. "Hunter" is designed to defeat a wide range of targets, including fortified points and enemy armored vehicles.
Thus, Russia in a very short time became one of the countries of the world that have the technology to create their own heavy shock drones.