The Polish Air Force is likely to completely abandon the operation of the Soviet MiG-29, which will ultimately lead to a shortage of combat aircraft for all missions. This publication writes
Dziennik Gazeta Prawna
.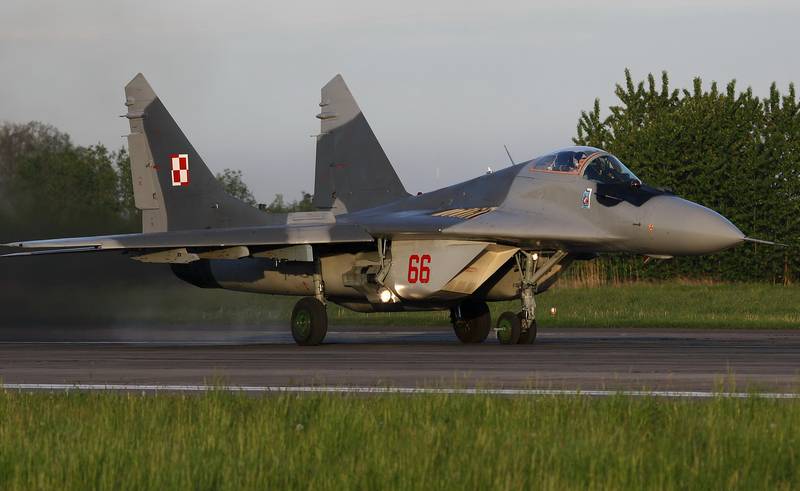 The Polish Air Force may completely cease operation of the MIG-29, the flights of which have already been banned since 4 this March after an accident of this type of aircraft. At the same time, the causes of the crash have not yet been officially announced, which means that no one permits the flights of other fighters. Each month of downtime reduces the number of pilots who are allowed to pilot a particular type of aircraft, which increases the time required to restore the combat readiness of the Air Force. This spring, the MiG-29 did not conduct live firing.
The scenario becomes real in which the MiG-29 combat aircraft that have been flying for five months will not return to service in the Polish Army. The possibility of a complete rejection of the MiG-29 is estimated at 90%
- say Polish military experts.
According to official figures, in the Polish Air Force, in addition to 30 Soviet MiG-29 fighters, there are also 48 American F-16 and 32 Soviet Su-22. However, according to the publication, with American aircraft, too, not everything is rosy. According to the publication, only 20% of US fighters are in a combat ready state, and in a state of full combat readiness, i.e. ready to take off immediately, only two F-16.
Only 10 of the 48 American F-16 fighter jets that we have are on alert
- cites the publication of the words of the representative of the country's air force.
The abandonment of the Soviet MiG-29 will lead to a complete loss of combat readiness of the Polish Air Force. Even if the United States agrees to sell F-35 fighters to Poland, their delivery will take several years, and later it will take another time to achieve combat readiness, the publication concludes.
Recall that the maintenance and maintenance of technical readiness of the Polish MiG-29 are engaged in Poland independently. Last year's plane crash, which led to the death of the pilot, occurred due to the failure of the ejection seat, the design of which was made independent changes.