In St. Petersburg, laid another ship mine defense (minesweeper) of the project 12700 "Alexandrite." The solemn ceremony of laying the ship was held at the Sredne-Nevsky Shipbuilding Plant.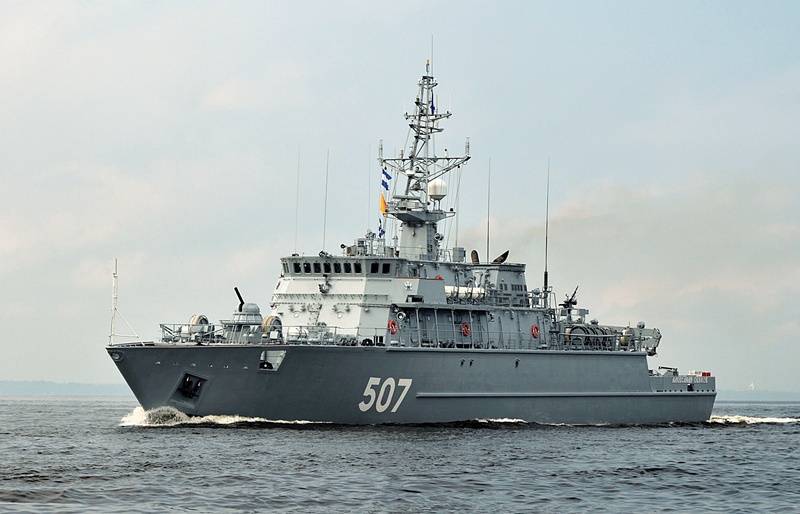 The lead ship of the series "Alexander Obukhov"
A minesweeper laid on the Middle Nevsky GCC, dubbed "Anatoly Shlemov" in honor of Vice-Admiral Anatoly Fedorovich Shlemov (1949-2018), is the seventh ship of this type and the sixth serial after the head ship Alexander Obukhov.
Currently, the Russian Navy includes two minesweepers of Project 12700 - the lead ship of the Alexander Obukhov series, which became part of
fleet
in December 2016, and Ivan Antonov, transferred to the Russian Navy in January of this year. At the same time, "Ivan Antonov" is the second in the series after the first in the series minesweeper, "George Kurbatov." Kurbatov's hull burned out almost completely due to a fire, so it had to be restored almost from scratch and the deadlines for shifting to the right were greatly shifted, passing the ship Anton Ivanov forward.
Another minesweeper, Vladimir Emelyanov, was launched and undergoes a test cycle, its launch into the fleet is scheduled before the end of the year. The fourth and fifth serial "Yakov Belyaev" and Peter Ilyichev "laid down in the 2017 and 2018 respectively, and are at different stages of construction.
In total, according to the state armaments program during the 2018-2027 period, the Russian Navy plans to get the 10 the latest minesweepers of the 12700 Alexandrite project.
Minesweepers of the 12700 project are able to use the latest hydroacoustic stations located both on the ship itself and on remote-controlled and autonomous underwater vehicles, and they have an automated mine action control system. Able to use traditional and traditional weapons. The ships of the Alexandrite series have a unique hull made of monolithic fiberglass, formed by vacuum infusion.
The 12700 project was developed by the Almaz Central Marine Design Bureau for the Russian Navy. These mine defense ships have a displacement of about 890 tons, the length is 62 meters and the width of 10 meters, the crew has 44 man.