13 ominous number
In thirteen Russian regions, the situation with the incidence of HIV (human immunodeficiency virus) exceeded the epidemiological level. That is, the number of cases there is more than one percent of the total population. And the leader among the Russian regions is the Irkutsk region - 1814 people are sick there for every 100 000 inhabitants, or 1,8 percent of the total population.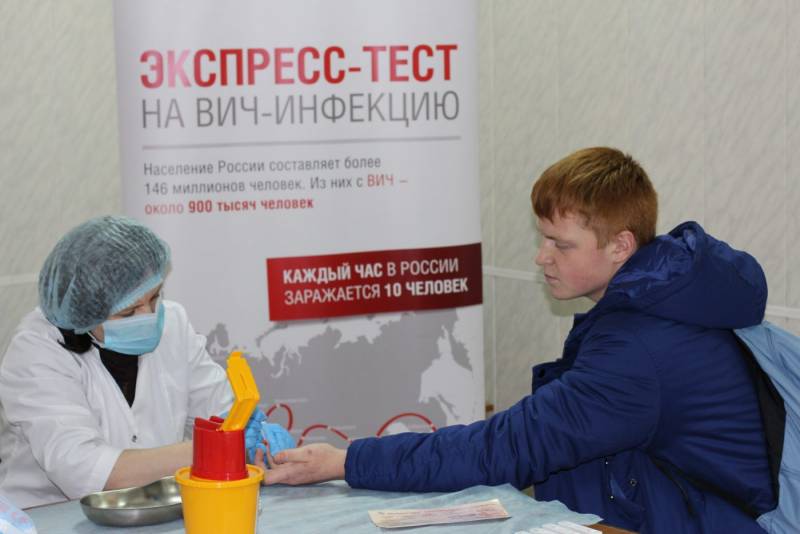 Doctors note several warning signs at once. First of all, HIV is increasingly transmitted outside the so-called risk groups, among quite normal, heterosexual men and women. The proportion of those infected during heterosexual contacts (for those who are too lazy to go to the search engine - these are the usual "man + woman" pairs) reached 54,8% - that is, more than half of all newly ill people became victims of frivolity, and not some serious defects or distortions.
Previously, most of the cases were in the risk groups - drug addicts using injecting drugs, homosexuals, employees of the "intimate services industry". And such a shift in emphasis points only to one thing - HIV "went to the people", ceased to be, although terrible, but exotic, and now it can literally touch everyone.
Since it is common for the human psyche to skip past the consciousness of various kinds of "dry numbers", let us specify the voiced above a little bit. No, no propaganda nightmares, just a little mental "visualization."
Simple human language
Translating statistics into a simple human language, we can say for sure that in thirteen Russian regions, HIV has come to every home. Do not believe? Then let's take the usual panel five-story building: three apartments on each site, fifteen apartments for the entrance, a total of four entrances - a total of sixty apartments. Apartments in houses are different, they are unevenly populated, but without exaggeration we can say that the average population density of apartments in our five-story buildings is slightly higher than two people. That is, a 120 person lives in each five-story building, or slightly higher.
But if we are right in our calculations, then at least for the record holder regions mentioned above, the assertion that a person with HIV is in every five-storey building is true. On average, at least one. Although in reality, of course, it is your house that can be clean. But this only means that in some other house of the sick two, three, five ...
By the way, he can live on your staircase. And the likelihood that the patient lives in your stairwell is not so small at all - somewhere 25%.
Do you live in a more prosperous region? Do you have better statistics? Well, you can be happy for you ... But do not relax much - in 35 regions, the incidence of HIV has reached or exceeded 0,5%. So if you have a slightly higher population density of five-story buildings, the picture will be about the same ...
Previously, the patient could, if not "calculate", then at least assume - it was enough just to bypass the side of drug addicts and punish their children to stay away from them. But today everything is not so obvious - any person can be infected.
The risk group has expanded at the expense of absolutely all young women - they are more susceptible to infection during heterosexual contact, and "mistakes of youth" occur in all. As they say, "love of evil" ... And the promiscuity and irresponsibility that is being cultivated now is even more evil.
But it is not worthwhile to exclude men from the "list of suspects" - the risk for them is slightly less, but, as a rule, the frequency of "adventures" is slightly more frequent. So with a young neighbor who rented an apartment on the floor above, you should also be careful ...
Among the sick there can be a quite decent couple, and their child, so innocent and cute - it's enough for one adult to "go to the left" unsuccessfully, and the whole family immediately falls into the risk group. That is, strictly speaking, now you cannot be sure about anything at all ...
And contraceptives we can not afford
The problem is greatly aggravated by the fact that the majority of Russians do not want to use condoms. One "feeling is not the same", another is a pity for money. It is not surprising that the increase in HIV incidence is occurring against the background of falling sales of this type of contraceptives - they say that economic difficulties are the cause, but these are, of course, just attacks on our wonderful government and the great successes it has achieved recently.
If you do not live in a panel (or brick, it doesn't matter) five-storey building, you still should not relax. A patient with HIV can be in almost every crowded bus, tram, subway car, train. No, of course, you do not get airborne droplets from it. Just remember that HIV is not some kind of distant African abstraction, but a thing that you (it is you!) That you face everyday.
Probably, for many, such a "picture" does not seem to be alarming. Well, just think, 1-2 patients on the house, what nonsense. Worse is unlikely to be? But do not be in a hurry to rejoice: it happens worse, so that with our attitude to our own health, we can still be ahead.
For example, it is worth taking the situation in the south of the African continent, in South Africa, Mozambique, Botswana and adjacent states. According to reports, about 15% of the adult population is sick there. That is, in terms of our realities, approximately 4 person for each entrance of a typical five-story building. Or almost one person for each staircase ...
It is noteworthy that the epidemiological situation with HIV and AIDS in Botswana led to a decrease in life expectancy in this country from 65 to 35 years to 2006. We, of course, have better indicators, so, probably, you can calm down?
Yes, we do not yet have South Africa, there are some differences not only in the climate. But personally, I still remember those times when HIV and AIDS seemed far from exotic to us. Believe me, if in the early nineties someone said that even during my life, HIV would come literally to our every home, I would have just laughed.
But if someone now says that soon an HIV-infected person will live with us on every staircase, I will definitely not be laughing ...
Just in case, I want to clarify - the purpose of this article is not to "chill" the reader, and certainly not to call for the start of a witch hunt. No, this is just another attempt to explain with the simplest and most understandable language the seemingly obvious thing - HIV is close, it is not an abstraction and not a horror film for tickling nerves. He is in every home, and he only thinks about how to get into your apartment. Take care of yourself and your loved ones, communicate with your children on this difficult topic, and try to convey to them the seriousness of the situation. In the end, let your family read this article, or professional medical professionals, unfortunately, often don't see the problem behind the numbers.
Well, the final touch. According to statistics, each article in the "VO" reads several tens of thousands of people (on average). That is, among those who have read this article there will be guaranteed several dozen HIV-infected people. Some of them probably still have no idea about this trouble.
And it may well be that it is you ...