The Belarusian gunsmiths at the exhibition of weapons and military equipment MILEX 2019, held these days in Minsk, showed a new multipurpose reconnaissance complex BRDM-4B based on a lightly armored vehicle.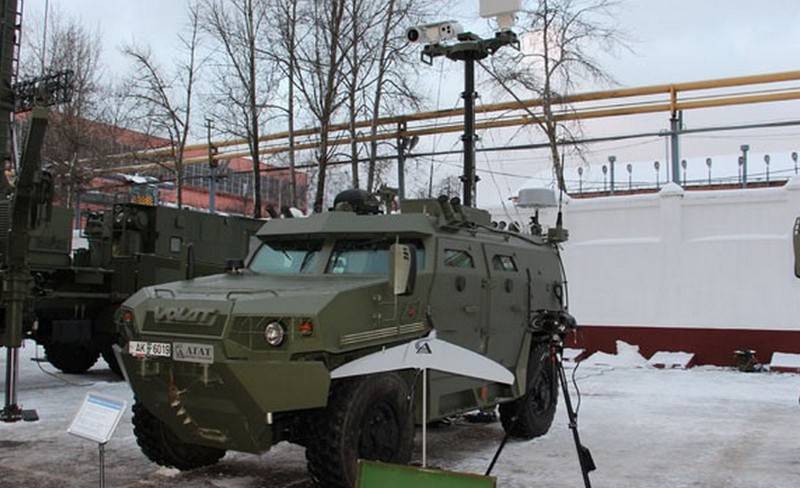 The BRDM-4B reconnaissance complex was developed by the Belarusian enterprise "Agat - control systems" based on the MZKT-490100 / V1 armored vehicle, created by the Minsk wheel tractor plant (MZKT). The mobile complex is designed for conducting troop reconnaissance, including during combat, at different times of day, in any weather and in conditions of limited visibility.
According to the developers, the complex can operate at a distance of up to 300 km from its troops and be integrated into various intelligence systems. At the same time, he is able to conduct reconnaissance of the terrain with the definition in the automated mode of the coordinates of the targets up to 15 m with the display on a digital map of the terrain. Reception and transmission of graphic and text reports in automatic mode, as well as stable communication is carried out when stopping at a distance of 300 km.
In addition, the installed BRDM-4B equipment is capable of blocking radio-controlled explosive devices, setting up aerosol and smoke screens, and ensuring the fulfillment of radiation and chemical protection tasks in contaminated areas.
The light-armored MZKT-490100 / V1 developed on the MZKT two years ago, on the basis of which the BRDM-4B complex was created, has a cruising range of up to 1 km. h