The Turkish company FNSS Savunma Sistemleri (a joint venture of the Turkish holding Nurol and the corporation BAE Systems) presented a prototype of the floating tracked ZAHA armored personnel carrier (Zırhlı Amfibi Hücum Araçları), created for use in the first Turkish UDC L 400 Anadolu, reports bMH blog bm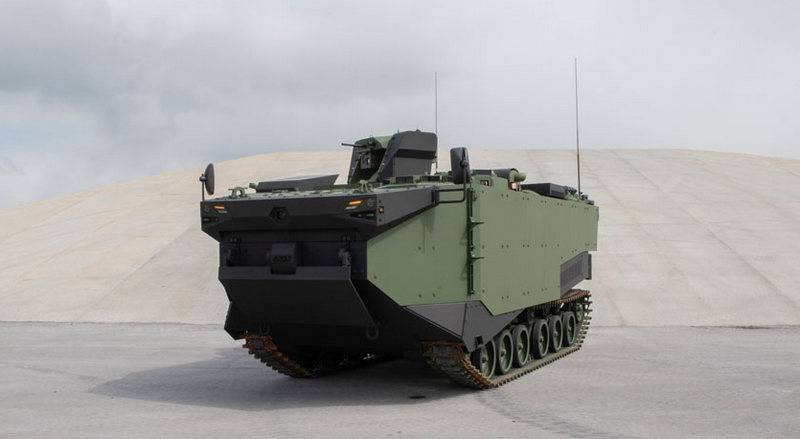 The contract for the design, development and production of the ZAHA floating combat vehicles for equipping the universal landing craft under construction for the Turkish Navy was signed in March 27 between FNSS and the Turkish Defense Industry Directorate. Of the ordered vehicles, 2017 should be released as conventional armored personnel carriers, two - command and staff and two more - as armored repair and recovery vehicles (BREM).
The ZAHA BTR is a further development of the AAV7 armored personnel carrier for the US Marine Corps (formerly LVTP-7), but with a new armored corps, engine compartment and recycled undercarriage.
The declared combat weight of the machine is 30 tons. As an armored troop-carrier, the vehicle accommodates three crew members and twenty-one paratroopers. The body is made of 5000 series aluminum-magnesium alloy and reinforced by spaced-mounted ceramic armor panels. It is stated that this provides protection against armor-piercing bullets of caliber 14,5 mm. There are elements of mine protection.
For afloat, there are two water cannons that provide full speed at 7 nodes. The machine can move on water in case of agitation no more than 2-x points, and when using a special "nautical" set (pipe-snorkels, etc.) - up to 4-x points.
The armored personnel carrier has five all-round cameras with day and thermal imaging channels. The BTR is equipped with a Turkish-made BIUS. Armament can be installed differently depending on the tasks performed. In the present embodiment, the BNR is equipped with a remotely controlled combat module of its own design, FNSS, with the 12,7-mm M2 machine gun and the 40-mm automatic grenade launcher.