The head of the US Air Force said that the new TX aircraft can be something more than just simulators.
Although the purchase of the TX Black Diamond to replace more than 50-year-old T-38 fleet as a training machine is still the main priority for this program, the service is beginning to explore the possibility of purchasing this multi-functional machine for other purposes.
A promising training aircraft may serve as a light "drummer" or play the role of the enemy in the squadron of "aggressors." At the informal level, there are several individuals who develop a concept of application and think through what the requirements for different versions may be.
said General Mike Holmes, commander of the United States Air Force.
This year, the US Air Force plans to conclude contracts with a number of companies that conduct training battles that imitate the actions of the enemy, including Russian and Chinese aircraft in service. However, the requirements of the United States Air Force may increase, which will require the purchase of new aircraft for squadrons of the "aggressors".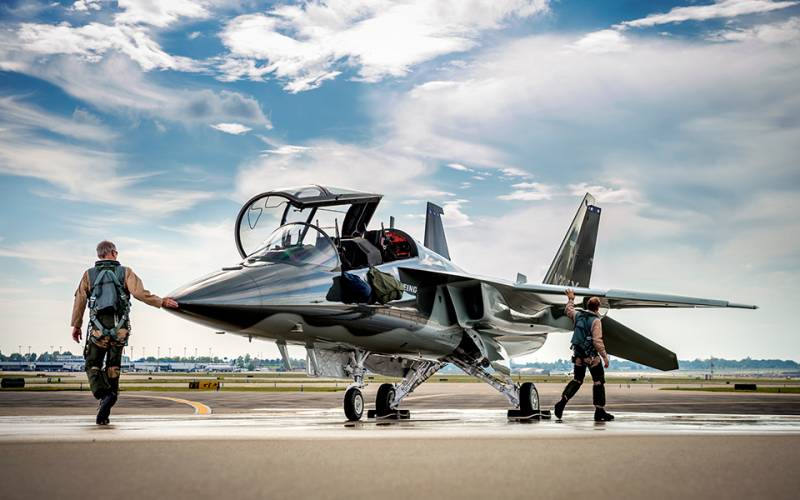 The Air Force had previously experienced various jet and turboprop aircraft for this purpose, but the TX has several advantages at once.
First, it will be a cheap platform. The armed forces acquire 350 machines, which will reduce production costs.
Secondly, due to a large fleet of vehicles will be reduced costs of operation and logistics.
Third, the new Boeing project is designed to simulate the fifth-generation machines F-22 and F-35. Apparently, he has to portray the Russian Su-57 and the Chinese Chengdu J-20 and Shenyang J-31.
Fourth, it combines the low cost of turboprop platforms with speed, maneuverability and the ability to install a wide range of systems and sensors for training combat.
Holmes also noted that Boeing since the design
Black Diamond
laid a flexible modification of the platform, and in order to reduce production costs, attracted both new production technologies and technologies developed in the commercial sector of the company.