On the one hand, everything is quite simple, on the other - quite interesting. Namely, the analysis of the genesis of the Ukrainian and Belarusian proud nations. It is strange in general that it is somehow not noticed or ignored. But if you approach without prejudice, the first thing that catches your eye is the complete artificiality and even the tension of this very process. A kind of growing anti-Russian "broilers." A kind of "Russophobia poultry factory." After all, the thing is what? In a natural way, this "process" would have gone much longer and much more ambiguous.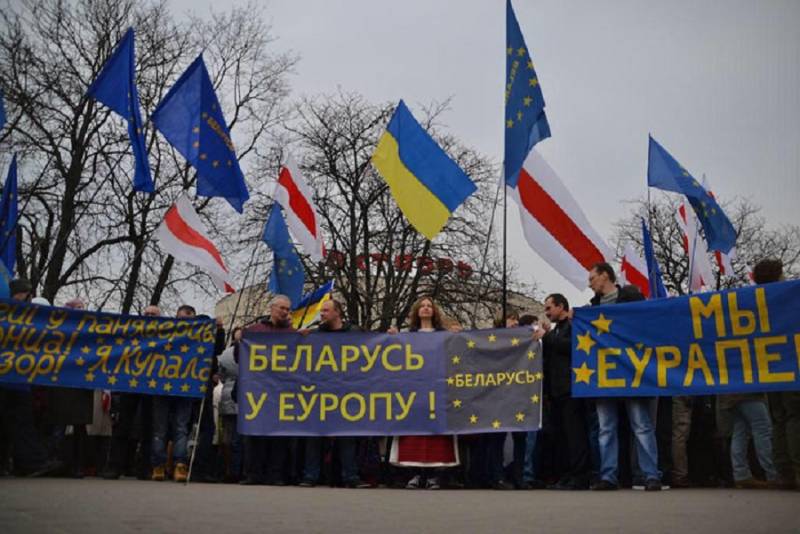 At times longer, if not an order of magnitude. I mean the process of alienation of the former Slavic union republics. Because relations within the framework of the USSR were very, very good, and "gaining independence" theoretically should have removed some complexes and offenses about the lack of sovereignty. In fact, after 1991, Belarus and Ukraine are independent states, if someone does not understand. And the collapse was bloodless! And what insults can be? What are such complexes?
That is purely theoretical - the relationship had to be very good for a long time (and it was hoped for in Russia). But it did not work out. In fact, in Minsk and Kiev, the flywheel of anti-Russian propaganda immediately began to unwind. That is, it did not start later, it began.
at once
. That is, right away. New republics had something to do: the economy, energy, the budget and the state system. We should not forget that in 1991 ended not only the USSR, but also socialism as a whole.
That is, both the leaders in Kiev and the leaders in Minsk had a long and difficult job to transfer the new country to new rails. If anyone understands - serious work for decades. This, by the way, was the main task in Russia for the 20 years after the USSR. Somehow, it was necessary to "settle" the country more or less after the sudden collapse of the social system. The trouble was that neither the economy as a system, nor the economy as a science were ready for such an unexpected turn. Least of all were Soviet citizens accustomed to poor but stable socialism ready for such upheavals.
Therefore, a certain danger of the Russian "expansion" to the territory of Belarus and Ukraine after 1991, looked like a blatant game: it wasn't before. A much more prosperous and well-fed FRG, at the height of the Soviet era, was joined by the GDR, which had one quarter of the population of western Germany. Moreover, this very East German population wanted unification. And yet, you know - nothing came of it. An attempt to "annex" Ukraine, whose population is one third of the Russian, in 90-s would look like a very ridiculous fantasy.
If you just think about it calmly, estimate it on your fingers and compare it with the German experience, then the complete delusionalness of this idea comes through by itself. It was impossible, because it was impossible. Russia had no money for its regions, and Russia itself was openly hawking. What is the "annexation"? What are you talking about? If we are to fight, then it was necessary to fight within the framework of the USSR. To allow disintegration, and then to throw himself "to reunite everything" is an utter nonsense. And having lived for years 10 in a state of sovereignty, Ukraine became already "another country".
That is, only very naive people could argue about some kind of "invasion of Ukraine" and some kind of "annexation". Practically the same was true for RB. Problems with the "reunion" would be mass. Political, legal and above all financial. Any person who at least a little imagines what a state is and what it is eaten with will not allow to lie. The state, oddly enough, is a rather fragile structure. An attempt to add economically weak and pro-Western territories nothing good would have brought Russia (I already about zero years).
Therefore, all these beautiful myths about the fact that Ukraine and Belarus after the collapse of the USSR were forced to "fight and resist" look convincing for a person who is not familiar with the realities of Russian 90's. And after living for years 10 in a state of "sovereignty", the population of these powers was already accustomed to such a situation, and "turning the stuffing back" became almost completely impossible. That is, the main tasks of the newly formed state formations became the very state construction.
The task is not for one generation. Serious, long-playing task. Years on 50. I would say: a strategic task. Unfortunately, neither in Minsk nor in Kiev did not understand this. About Ukraine, with its constant, growing shoals in all areas, as if most had heard. And about the "special type of thinking", too. But, oddly enough, in pseudosocial Belarus, thinking is also very specific. The people literally didn't see quite obvious government tasks in the energy sector, macroeconomics, and the army. It is not interesting to anyone especially ...
That is, the trouble of both Ukraine and Belarus is that they have not been involved in particularly state construction since 1991. That is why, for all the dissimilarity of the device models of the Ukrainian and Belarusian societies, the 10-s crisis hit them almost simultaneously. The Soviet resource turned out to be eaten, and the world financial crisis was raging on the planet. It is very interesting how the same Ukraine would have survived without "Russian aggression"! ..
Well, here the question arises: what, strictly speaking, have they been engaged in all these years? They did a lot of interesting things, but in the field of state. politicians and there and there was a bet on the line: the countryname is not Russia. At the same time, two problems were solved as if in aggregate. In foreign policy, "protection against annexation" was achieved, while in internal politics, all inevitable negative was redirected towards Russia. Well, a nice psychological bonus "we spit in the face of the empire" was present.
I say: these gentlemen acted in a very curved universe. For some reason, they by default assumed that a) they already have a state (the Ukrainians didn't even bother to demarcate the borders); b) the main and only threat to them is Russia; c) The West - it is rich, kind and generous (Milosevic will not let you lie!); d) to adjust the work of the national economy in any foreign policy configuration - just spit; d) how ugly to behave in relation to Russia, it will still help.
That is, the very crisis in Kiev and Minsk is not exactly an "accident", it was "programmed" from the very beginning of "non-core". That is, in Russia, all these years they were engaged in several one, but in Belarus and Ukraine - a little different. In Russia, at the exit, we have VKS and Su-57, in Ukraine - the "heavenly hundred" and the Cossack Gavrilyuk, in Belarus - the agro-towns and "dressed in embroidery and coming close to NATO" Mr. Makei. As they say, who on what studied.
Once again: energy, for example, is the basis of modern society, but no one in Kiev or in Minsk has ever tried to deal with it all these years. The same goes for the army: in 2014, it was discovered that Ukraine has no army. In Belarus, it became clear a little earlier. But it was not interesting to anyone - "non-trump" topics. The same is true for all economies: just at the end of the "zero" at the beginning of the "tenths" it became obvious that in this sphere there is a gulf between Russia and two close neighbors from the west.
By the way, this was one of the reasons for the hatred (jealousy!) Of Russia both there and there. That is, it turns out that the Russians succeeded, but they did not? "Abydna", you know. No, neither Ukrainian nor Belarusian politicians of this
never
do not recognize. Fundamentally. I have never met a simple and obvious thought with Ukrainian or Belarusian journalists / commentators: we screwed up, and in Russia things are going smoothly. Crowds of Ukrainians and Belarusians all these years have been stretching to Russia for work, but Poland (for those and for others!) Is yes! Poland is a lighthouse and a flagship! And Russia is an empty place. And this is also the result of state propaganda.
That is, if we want to see new cities, factories, technologies, scientific discoveries, cultural breakthroughs in Ukraine or in Belarus, we will not see any of this. Because it is not. I say, as a result of many years of latent work, it suddenly turned out that Russia has a new army, at about the same time, as a result of many years of latent work, Ukraine showed the world "Maidan-2" and "heavenly hundred". Russia showed the city and the world "Armatu" and Su-57, Ukraine - "a tank of garbage cans" and a "starfall" of "litak."
Instead of doing the same state-building, both in Minsk and Kiev were engaged in something obscene, namely nationalist propaganda. And this is where very serious results have been achieved. We admit honestly: both there and there the level and quality of life did not come close to Soviet standards either in the 90 or in the 00. The people lived poorer than at the "scoop" (about Russia, I somehow separately). But if propaganda in the USSR completely failed by the 80 years (that is, no one believed in it), then propaganda worked in Belarus and Ukraine.
Amazing isn't it? The USSR was a superpower of planetary scale, with a quite obvious set of outstanding achievements. In the USSR, in the end, a simple person could "not do a damn thing" and live a good and carefree life (this topic is very close to the author for personal reasons). Neither Ukraine nor Belarus could provide their citizens with anything like that even close: neither "statehood", nor "bread and butter". But in the field of propaganda success was obvious. Notice, the questions that are inconvenient for the authorities "Why does the standard of living in Russia exceed?" No one asks. Uninteresting, apparently.
That is, those of our citizens who rather naively try (tried) to discuss something there with the citizens of Ukraine and Belarus do not understand the main thing: discussion of this kind is of little use (impossible). "Why is that?" You ask. The reason is precisely this: the construction of a "sovereign state" in both Minsk and Kiev was proceeding, rather, in the "virtual sphere" of propaganda. That is, 25 was simply explained to people for years that Russians are very bad. That's all "state building".
If you look closely, it is impossible to find any "serious" breakthroughs either in the energy sector, or in logistics, or in industry, or in science. Nowhere. People of 25 have been doing pure propaganda for years, eating everything that can be passed on (Soviet legacy and loans). Then the most natural way comes the "Doomsday". And in Belarus, and in Ukraine. If anyone does not remember, then just at the beginning of the 2000s, both Ukraine and Belarus looked quite cheerful and quite good. That was, that was.
But at the end of zero the situation for them "turned around." Both in Kiev and Minsk, serious problems emerged in the field of economics, energy, industry and state. management. It must be said that they did not even try to solve the problem either there or there: they decided to "freeze everything" in Minsk, and "Maidan" number two passed in Kiev ... But again and again: this is the result of development
Internal
, precisely internal processes.
Russia had the most indirect relation to them. But neither the official authorities of Belarus, nor the official authorities of Ukraine are categorically not ready to admit that their country was a failed state. Therefore, the flywheel of state propaganda unwinds to its fullest. Instead of hard and unpleasant questions on finance, energy, trade balance, utility bills, etc. A very "trump" theme of Russian aggression is being discussed.
That is, the key is not searched where it is lost, but where it is lighter. For many Russians, the convergence of regimes in Kiev and Minsk is categorically incomprehensible, but for all the apparent dissimilarity there is nothing surprising here: the base of them is completely identical. These are two nationalist, authoritarian Russophobic regimes. And in Kiev and Minsk. And it brings them very seriously.
In principle, oddly enough, the mass consciousness is quite "programmable" for itself. In both Belarus and Ukraine, people were almost 30 years old inspired: the main thing is independence, Russia is the enemy. And even when reality is shattered, the mental hold continues. Everyone knows that at the time of the defeat of the Third Reich (1944-1945), when fronts cracked at the seams, and a stream of bombs rained down on German cities, millions of Germans
continued to believe Hitler
. No matter what. There, at the end of it, Hitler threw adolescents into battle. The war was obviously lost, the government sends practically children to certain death ... but nobody asks questions. And the thing was not even in fear already. An important role was played, in spite of everything, by Herr Goebbels. He is more important than Herr Himmler. Yes exactly!
In today's Ukraine, everything has collapsed: the economy, energy, finance, and industry. According to some reports, the Armed Forces of Ukraine (and the National Bats) have lost more people than the Soviet Army in Afghanistan. But no enlightenment in the minds of the Ukrainians (which naive Russians so expected) does not occur in principle. Our idea of ​​the world around us can be created directly, or it can be served in finished form through newspapers, radio, TV (with the Internet more interesting!).
So, here the "induced" signal can completely score the initial one. In fact, professional propaganda is much more effective than it is customary to think about. For some reason, this topic is not much discussed. For some reason, it is customary to laugh at "propaganda efforts". And all is not as funny as many people think. It's just that we all know the "Hindu code" of the late USSR, when the state propaganda was frankly marasmic. But usually everything is not so funny.
State propaganda works. Especially with targeted long-term work. The results of which we observe in Ukraine and Belarus. Moreover, truly successful, truly persistent propaganda makes an ordinary person to ignore even quite obvious facts.
"Yes, the Ministry of Abundance did a good job this year," he said, and nodded with the air of a connoisseur. "By the way, Smith, do you happen to have a free blade?" "None," said Winston (1984).
That is, "brainwashing people" is not only real - it's more than real. To a state of immunity to reality itself. It seems to us absolutely unbelievable that, for example, Belarus, which really earns money only in Russia, whose citizens can work and study in Russia, but not in Europe, and for which Europe didn't do anything good for 30 years of independence, is anti-Russian and pro-European. But propaganda works.
That is, from the point of view of the author, modern Belarus is just an archetypical example of the implementation of the ideas of "1984". An example of how people can easily and quickly "reflash" their brains. That is exactly the same as they, Russian, "Orthodox Communists" with one
history
mentality and habits and shortcomings, suddenly become "enemies", but the Poles, and especially the Germans - "friends." Propaganda can do almost everything: at first glance, they can make "Germans" out of a quarter to a third of the population of Belorussia from Germans, and from Russian "enemies" - a task that cannot be solved in principle. But Belarusian propaganda (with the friendly help of Western propaganda), I think, has completely resolved this task.
How can you even determine if the world in which you live is real or is it a clone of the "Matrix"? Well, that's just in the virtual world that usually remain un-smoothed joints, "cracks in reality." This is how convinced communists in the era of publicity began to learn a lot of interesting things for themselves. Some of this became bad. From the realization that the dear and beloved Communist Party has deprived freedom and destroyed the people
much more
than the damned royal regime. For the psyche of many, this turned out to be intolerable. Approximately the same reaction from the modern "heirs of the traditions of the partisan region" raises a simple question: why does your country support the SS division "Galicia" against the militia? People literally get hysterical. Nothing unusual: just a collision with a "seam" in "in virtual reality". Severe clinical case.
That is, they are like partisans and against the fascists, but they are already and, as it were, "Europeans" and against "vatnikov" and "hordes". And here (when you point out the discrepancy) their tender European psyche begins to go crazy, and they begin to have an "identity crisis".
That is, the fact that millions of people can be programmed, not even as computers, but as controllers, sounds crazy, but that's exactly how things are. Well, remember the attempts to communicate with people living in Ukraine and Belarus, and besides, they found the USSR. That is, in theory, everything seems to be right, good and great ... but for some reason, as a result of the development of a logical chain, they come to exactly the opposite conclusions.
This is just a sign of a very effective propaganda: the connection with reality is almost completely turned off, and a person is immersed in the virtual world. And there is no science fiction, and no cyberpunk here and close as we know, as early as in 70-e - 80-e in the industrialized countries such a disease has developed: dependence on the TV. "Little people" literally
all free time
stared at the blue television screens like sheep at a new gate. Is the majority of Homo sapiens reasonable? In 80-e and 90-e appeared dependency on computer games. In 90 and 00, dependence on the Internet. In 00, 10, is a dependency on mobile Internet and social networks. That is, de facto Mr. Zuckerberg "riveted" large mobile virtual "new gates", no more and no less. New gates on a new technological basis, they say, comrades rams, do not crowd, go through one by one, put likes, make reposts. Again and again: the "rationality" of Homo sapiens is very, very exaggerated.
If it were a pure theory, then it would have been long and difficult to explain all this (the reprogramming process). But the presence of a number of Ukraine and Belarus (the former BSSR and the Ukrainian SSR) makes the process simple and intuitive. When people, who in real life received everything from Russia (from industry to territory) and received nothing from the West (nothing but virtual pictures at all), with fury "oppose a horde" - this is something with something.
In fact, according to the logic of events, today the standard of living and payment of utilities in Ukraine is a problem for the USA and Brussels, as it was a problem for Moscow before 1991. If "for garlic", then this is exactly the case. But "just so" in Ukraine, no one argues. From their "point of view", Russia should: return the Crimea and Donbass, buy Ukrainian goods duty free, supply cheap gas to Ukraine, pay for transit and refuse bypass gas pipelines. Still, Russia will be bad, and the West will be good. Is it schizophrenia? No, this is the "Matrix."
Human society is completely programmable - and here in Ukraine we are lucky enough to see the result. "Home methods" is not treated. By the way, before the "Maidan-2" in Russia, the forces of Internet activists formulated the "Ukrainian maxim": "Neighbor, give me food, otherwise there is nothing for you to spoil under the door". Then it turned out that this was not a joke at all. Ukrainians are sincerely convinced that Russians should be hanged, while Russia is obliged to contain Ukraine. The program is so elaborate.
Well, in Ukraine everything has already happened and everything is already clear, but in Belarus this "virtual insanity" actively continues to take place. Instead of taking at least some reasonable lessons from the example of neighboring Lithuania, Ukraine, Moldova, Belarusians are actively discussing what they are European and independent ... The question of paying bills for gas, however, is practically not interesting for them (Russia is obliged!). Today, Belarus is not able to pay gas bills (at a discount!). What will happen when these accounts are on the Ukrainian level? And they will be - as a consequence of the anti-Russian policy of Minsk. And there will be a humanitarian disaster (like in Ukraine).
That is, the basic instincts (eating and going to the toilet) still seem to work, but the higher nervous activity is taken under external control. The result is amazing. People lead an absolutely unnecessary civil war to them, pay ten times more for gas, but this does not cause serious questions. I understand: to consider human society as a programmable network is quite cynical, and yet. The level of external control over consciousness is such that "humans" are not even able to take care of their most pressing interests and security of themselves and their loved ones.
The idea, by the way, is not mine: attentive observers of the Ukrainian events have noted this for a long time, I just tried to develop it. The trouble of this propaganda in what? The first is to begin the process simply, but it is impossible to stop (from a certain moment), it is like burning wood in the stove. The fire becomes self-sustaining and growing (scientifically it is an exothermic reaction). Those. At first, Russophobic ideas were introduced, for example, in the Republic of Belarus, quite centrally, but from a certain stage the process gained momentum and became uncontrollable. And he went on increasing, and it became impossible to "hide" him. Secondly, such competent propaganda sooner or later poisons the consciousness of the authorities themselves, its leaders. They "begin to use their goods" and cease to objectively evaluate the realities.
Any adequate outside observer of the actions of the Belarusian political elite in the past ten years may get the impression that the cuckoo has flown away at the comrades. In the EU and the USA, they remain the illegitimate representatives of the dictatorial regime. And nothing has changed, and no one "forgave" them. They are waiting for the fate of Milosevic, if someone does not understand. But they are actively "moving closer to the West" and defiantly spitting on Russia. Here it is no longer a matter of morality, but of adequacy. In the sense of preserving your own skin. Russia saved Abashidze, Shevardnadze, Yanukovich. With that, none of them was 100-percent pro-Russian.
The United States erased Mubarak into the camp dust, which 30 has served them for years as a faithful dog. And the conscience does not torment them. Sarkozy bombed and destroyed Libya and Gaddafi himself (who financed his election campaign). But propaganda, which was conducted for decades in Belarus and Ukraine, also affects the propagandists themselves (their owners). And they begin to believe in this nonsense. Because it is convenient. When the "parasites" rebelled, their beloved president fled not to Qatar and not to China, but for some reason to Sochi (a fact which is pointedly ignored by belpro-propaganda!). And, by the way, "a rescued private soldier Yanukovych" somehow has not yet said thanks to Russia (apparently, it still cannot come to its senses). That is, even if the very propaganda has the most serious impact on the first persons of the state, then what do you want from ordinary citizens?