State tests of the modernized
tank
The T-90M "Breakthrough" is nearing completion, the main characteristics of the new machine have been successfully confirmed, said Alexander Panteleev, head of the research and testing center for armored vehicles of the 3rd Central Research Institute of the Ministry of Defense of the Russian Federation on the air of the Military Acceptance program on the TV channel "
Star"
.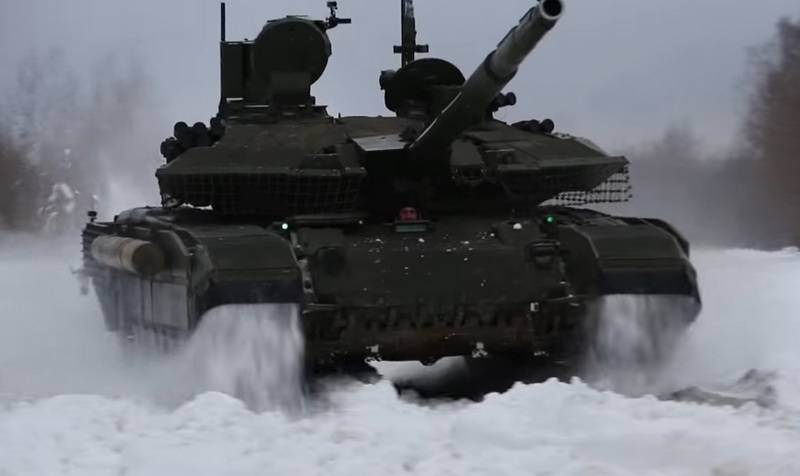 One of the prototypes of the modernized T-90M tank
The machine completes state tests. The main characteristics stated in the tactical and technical task, we confirmed
- said Panteleev.
He said that, unlike the basic T-90 model, the upgraded T-90M received a fundamentally new tower and a more powerful engine. The gun on the new tank uses the same as on the T-90, but the barrel has a design feature - this is the use of accounting for bending of the barrel channel. The tower is equipped with a remote-controlled machine-gun mount of 12,7-mm caliber. A new multi-channel sight is used, which ensures the use of weapons at any time of the day. Another feature of the new tank was the ability to exchange data with other vehicles in real time. The tank has a video surveillance system, including a rear view camera. It is planned to install an active protection complex similar to the Arena.
An increased engine is installed compared to the T-90. The tower is a new, unique tower, radically different from the serial. The T-90M armor is equipped with a special anti-slip coating - the same is used on the latest T-14 Armata
- Panteleev noted.
Earlier it was reported that the Ministry of Defense and Uralvagonzavod signed a contract for the supply of modernized T-90M tanks back in the 2017 year. The first batch of new tanks should enter the troops this year. Plans were voiced to upgrade T-90M to 400 T-90 tanks.