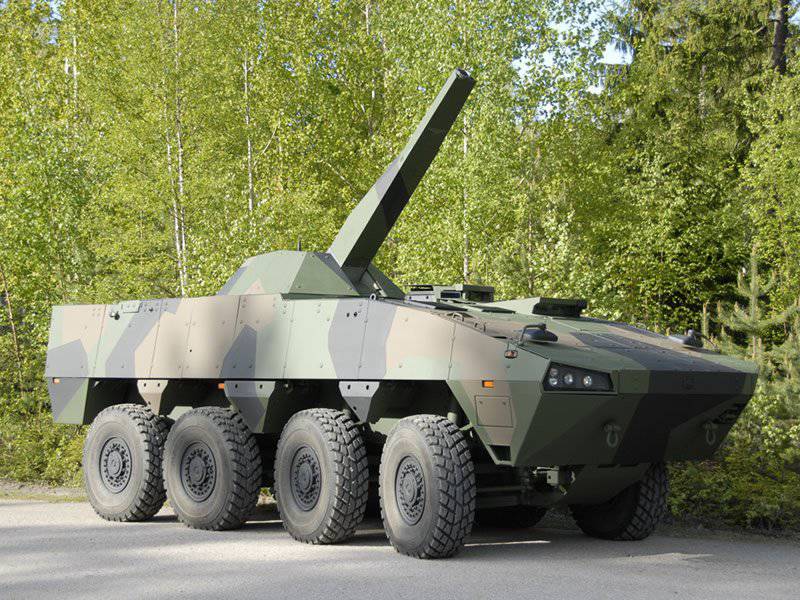 The Russian armed forces are ready to consider buying the Finnish armored vehicle Patria AMV, but only after its comprehensive tests - Chief of the General Staff General of the Army Nikolai Makarov told the Eurosatory-2012 armory.
The second day of the Eurosatory-2012 was noted by a visit by a large delegation of the Ministry of Defense. The expositions were examined, including the Chief of the General Staff Makarov and the First Deputy Minister of Defense Alexander Sukhorukov. If Alexander Petrovich focused on getting acquainted with the products of the Russian defense industry, Nikolai Egorovich devoted most of his time to foreign exhibits. The head of the General Staff was impressed by the Finnish armored vehicle Patria AMV. She looks really menacing. The impression is enhanced by a gun made in the style of stealth technology.
Nikolai Makarov said that the military department would not mind testing this armored car at their training grounds and, in the case of good results, consider purchasing. It was evident that the Finns were surprised by such an offer. Like the French who heard about the Russian Navy's intention to buy Mistral from them. The French really did not believe in the reality of what the then commander-in-chief of the Navy said. Today naval
fleet
another person commands us, and the first Mistral is already under construction for Russia. So, you see, our motorized gunners will soon use Finnish vehicles as armored personnel carriers.