The commissioning of the LNG acceptance terminal in the Kaliningrad region did not seem to cause much excitement in the Russian media. Yes, this is a noticeable event, which the leading publications immediately tried to assess from the point of view of economic importance for the region and profitability for Gazprom, but this was the case in most cases.
However, assessing it only from these positions would not be entirely true, because the project also has significant geopolitical significance. In fact, Kaliningrad (and with it the whole of Russia) is ready for a real sanction and transport siege. And the very readiness of the Russian leadership to invest in a not very profitable economically, but a strategically very important project says a lot. In particular, about the fact that we are still preparing the "rear" in case of a really serious complication of the military-political situation in the world. And our efforts finally ceased to be defined only by the concept of profitability ...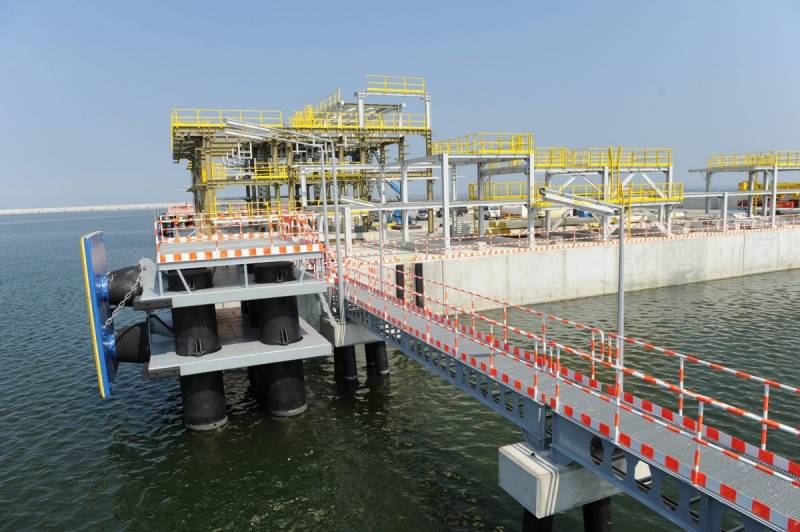 Total investment in the project amounted to approximately 780 million euros. Capacity of the constructed terminal is 2,8 billion m³. This is quite comparable with the current gas consumption in the Kaliningrad region and even slightly higher than this indicator. To provide gas to the terminal, Marshal Vasilevsky, a special regasification vessel (tanker) built in South Korea, is capable of not only transporting LNG from shipping terminals, but also returning gas to its "original" state, making it suitable for storage in underground gas storage facilities and for use for its intended purpose without any additional costs.
Also, it should not be forgotten that in recent years Gazprom has built several underground natural gas storage facilities with a total capacity of 3,4 billion m³ in the Kaliningrad Region. This is almost one and a half times more than the annual gas consumption in the region, which makes it possible to be quite optimistic about the prospect of experiencing any energy blockade by the EU and NATO.
As it is known, today gas to the region is supplied via the Minsk-Vilnius-Kaunas-Kaliningrad trunk pipeline. Pipeline gas, of course, is cheaper than liquefied gas, but there is one caveat: its delivery can be easily blocked if any sanctions and restrictions are imposed. At the same time, this does not apply to maritime trade and transport links, and an attempt to arrest a vessel with Russian gas from one Russian port to another is quite an excuse for starting a war.
Without declaring war on Russia (or not starting it de facto), no one will be able to restrict Russia's transport links with the Kaliningrad region. And it shows, among other things, what level of possible opposition is expected in the Kremlin. But even in the event of such an aggravation, gas reserves in the region will allow the region to hold on for more than a year and a half. And given the possible military restrictions - and more.
In fact, it removes all the questions. If we are not able to unblock the transport communication with our Baltic enclave in a year or two, then it is hardly worth discussing any efforts by Russia to ensure its strategic sustainability. And the question of its very future can be considered closed.
At the same time, this project should not be considered purely unprofitable, mobilization: surely the capacity of gas storages can be in demand for export deliveries to neighboring regions during the period of some peak loads. Moreover, against the background of "fashionable" deliveries of American LNG to the terminals of Poland and Lithuania, prices on the spot market in Europe during such winter "rush jobs" can be very good.
But do not forget about other projects designed to provide reliable communication between the Russian regions, even in the case of very unfavorable developments on the borders of our state. In particular, this is the well-known Krymsky Bridge, and the railway bypassing Ukraine, which has already been completed and commissioned.
It is in the complex that such projects give us at least an approximate understanding of the fact that Russia has not turned off and does not turn off preparations for a possible military denouement in Ukraine, as well as "not to get up twice," and in some other points on the western borders of modern Russia. Just this is done, alas, not as fast as we would like. But there are many objective explanations for this - in particular, the consequences of the collapse of the USSR really turned out to be a very serious blow to Russia. Unfortunately, this is not done in a month or even in a year, especially if you don't want to frighten the current hegemon too much with your reinforcement.
Of course, it is still very early for us to talk about the complete readiness of the Russian Federation for a possible open confrontation with the West. We are still "import-substituting" even in such critical areas as agriculture and the production of medicines, not to mention electronics and the like. Recently, a problem was discovered with the supply of materials for our medium-haul MC-21 - the carbon thread of the required quality, which is necessary for "sintering" of wing elements, is not being done in our country. This is just a special case, but it perfectly illustrates the general condition of our still sick and dependent economy.
And nevertheless, such events as the commissioning of the gas terminal in the Kaliningrad region show that the process is underway, and even in the direction we need. And who knows if 2019 will not be a turning point in relations with NATO and its puppets? In any case, we have become a little better prepared for this, and our "partners" have already given plenty of reasons.