The detention in Moscow on New Year's Eve of an American citizen and a Canadian citizen, former US Marine officer Paul Whelan, to whom the FSB incriminates an "espionage action", is an absolutely significant event, namely a turning one. This is a response to the arrest in America by Maria Butina under the law of 30 of the last century, and other arrests in America of Russian citizens on false accusations, and in general, for all the good things that America did to us last year. And this is a mockery of sanctions: Moscow gives the US Congress another reason for sanctions, at their discretion.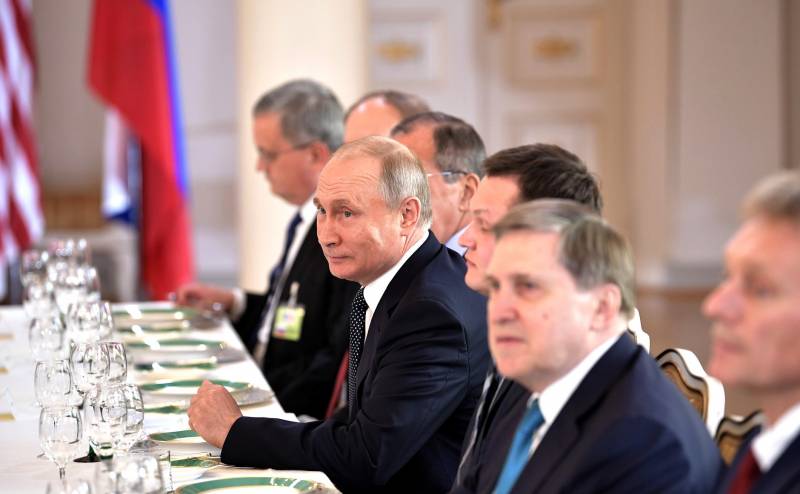 CNN analysts were the first to point out that Moscow is preparing to exchange Butina for Whelan, the sinless former Marine, except for his dismissal, allegedly for theft. We can only be glad that CNN has such analysts. Such an exchange, of course, is possible, after the investigation and trial, perhaps even according to the formula "all for all". Many of our political prisoners are languishing in US prisons, so, perhaps, Whelan is only the first swallow.
In this case, we are talking about a turnaround of Russian policy towards the United States and the entire West. The policy of searching for compromises with Western partners was recognized to be unpromising, this is evidenced not only by the detention of Whelan, but most of all New Year's speech by President Vladimir Putin. He did not mention the West in it at all, in any way, that the free English press considered it a "bold" insult. In her opinion, this "Russia rejects the West." Is this something else for the "Scripal case" that will definitely arrive, poisoned and abducted by MI5 with MI6.
In his speech, Vladimir Putin repeated in fact the thought of Alexander III that Russia "has only two allies: the army and the navy." This was noticed by many, but even more Putin repeated his other thought: "Russia has no friends!" The Russian president said this in other words, urging the Russians to rally, "since Russia never had and never will have assistants." This is Moscow's response to all future sanctions combined. And interference in the affairs of Russia.
It seems that Paul Whelan's mission in Moscow was quite ordinary: to rub-talk with representatives of our "liberal opposition", to say something in words, to convey something in words, without transmitting instructions and reports on the work done. Therefore, American lawyers indignantly deny that Paul carried out some kind of secret mission in Moscow. Previously, the Americans got away with it: if they brought to justice, then our "human rights activists" for various Western grants.
Maria Butina was arrested in America for much more innocent contact with ordinary Americans: she never hung out with opposition figures in America. From now on, Americans and other Westerners, especially art historians, will apparently be contraindicated to rotate in our "human rights circles."
Now there are "leaks", and in our pro-Western Internet media, allegedly Paul Whelan in the room of the Metropol Hotel was transferred by someone a flash drive with a secret: a list of employees of one of the secret Russian departments. Five minutes later he was detained by the FSB. Indirectly they hint that the flash drive was thrown to Whelan by this "someone".
But this does not change the essence of the matter: Whelan confidentially met with someone at Metropol, and maybe not only there. After all, he had often been to Russia before, and he knows Russian at a basic level. And now I came to Moscow for a wedding to a friend. Soon we will know the name of this lucky man.
The US ambassador to Moscow, John Huntsman, has already met with Whelan; no statements have yet been received from him. But Secretary of State Mike Pompeo hurried to demand the return of Whelan to the United States. It is unlikely that Pompeo understands, but he needs to make formidable statements for CNN analysts. Our "agent" Donald Trump is silent.
Truly Trump and his analysts should think it over before starting to wave sanctions again. In general, Erdogan's detention of an American preacher in Turkey led to a crisis in US-Turkish relations. Then, by detaining Whelan, Moscow says that it is ready for further deterioration of relations with Washington, and, as they say, "I saw his sanctions in the grave".
The fact is that many independent analysts believe that the US sanctions package is empty. You can, of course, come up with something else, only it can hit much harder on the US dollar system, and Russia's raw materials and export military-technical resources will remain in price anyway. For the main commodity groups of a broad profile, first of all, food, Russia is already completely import replacing. And the Russian equivalent of SWIFT within Russia is already working. Rumors about the resignation of the US Treasury Secretary and anti-Russian sanctions architect Steve Mnuchin hint at the thick circumstances: he began to play and put the US financial system at risk.
Apparently, Moscow in the person of Vladimir Putin is moving from the policy of "partnership", trying to negotiate with the western "partners" to contain them as opponents of Russia, with whom trying to negotiate is useless. Putin is tackling America neatly, starting with mirror responses to its encroachments. Consequences Moscow probably calculated, and came to such a turn.
We note that the tightening of Moscow's foreign policy position coincided with the beginning of the active phase of the construction of the Nord Stream 2, together with Germany, in defiance of sanctions threats from the United States. Germany obviously refused to follow the US energy policy, which makes it currently the situational partner of Russia.
And about Ukraine. All this does not bode well for the Bandera regime of Poroshenko. Foreign Minister Sergey Lavrov is no longer shy about giving him Nazi epithets, this is not by chance. Kiev political analysts are unanimous in saying that the situation in Ukraine in 2019 will worsen in connection with the elections and the crisis in the economy, one Okhrimenko believes that the elections could turn into another Maidan. The deterioration of Russia's relations with the United States, in principle, unleashes Moscow's hands. There is nowhere worse.