Chinese military experts decided to speak out about a contract between Russia and Vietnam, involving the supply of Russian to the Vietnamese armed forces
tanks
T-90S.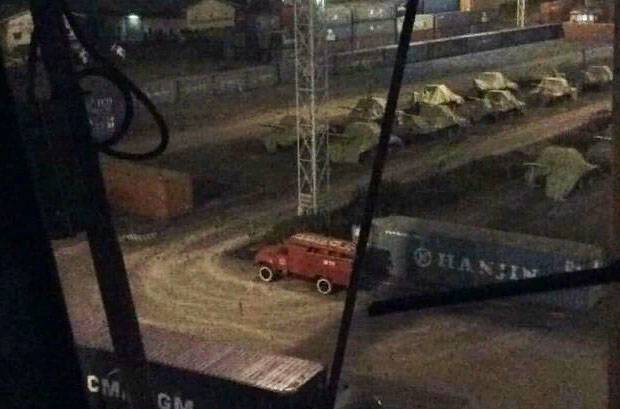 In total, the contract involves the delivery of 64 combat vehicles of this type to Hanoi. In Chinese media, it is stated that the first batch (including 32 units) has already been delivered to Vietnam from the Russian Federation. It is noted that for the transportation of armored vehicles from the port were used wheeled tractors KZKT-7428.
In the Chinese media, military experts have stated that with the acquisition of Russian T-90, the Vietnamese army will receive additional armored equipment, but "this will not give an advantage over the latest Chinese tanks." In particular, it is stated that the T-90С acquired in Russia for the Vietnamese troops "are in many ways inferior" to the Chinese tank Type 15. This is a tank that was previously demonstrated at military-technical exhibitions under the export nomenclature VT5. Also known as ZTQ-15.
From the statements of the Chinese military expert in the Chinese media:
Although T-90S theoretically reaches the level of modern main battle tanks and may allow Vietnam to make arrogant statements about the rearmament of armored forces, in fact T-90C will not play an important role for Vietnam. Tanks of different versions of the T-90 are inferior to the Chinese Type 15 when used in highlands. The angle of vertical deflection of the Type 15 tank gun is greater than that of the T-90, and this is an important component of success in a battle in the mountains.
The following are judgments about comparing the T-90 and VT4 (MBT-3000) tanks. VT4 - is the Chinese main battle tank, which is in service not only the PLA, but also the Thai army. VT4 has an 125-mm gun, capable of firing not only projectiles, but also guided missiles at a distance of up to 5 km.
From the statement of the Chinese military experts:
The VT4 tank, equipped with an HP 1200 engine, has a high maneuverability. The number of advanced technologies applied on it makes it better than the Russian T-90С. The tank is high class! It has a much wider range of combat capabilities than T-90, which Vietnam and India today have.
In general, all these statements boil down to praising Chinese tanks and calling on the countries of Southeast and South Asia (including Bangladesh and Myanmar) to buy armored vehicles made exclusively in China.