From the Donetsk People's Republic today reports about the implementation of a sabotage and terrorist act come. It is noted that unknown persons carried out undermining the support of the railway bridge. We are talking about the object of railway infrastructure, which is located on the 27-m kilometer of the route between the stations Chumakovo and Larino. The bridge passes over the road connecting Slavyansk with Mariupol.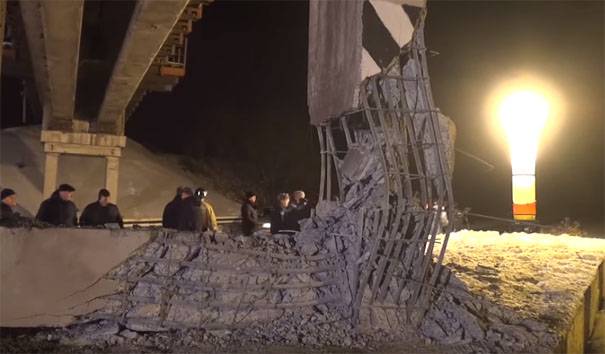 To prevent the destruction of the bridge, which could occur as a result of the partial destruction of its central support, experts carried out work on installing special concrete glasses and laying more than a hundred sleepers in the space between the supports.
It is known that the explosion occurred the day before.
Republican Ministry of Emergency Situations reports that there are no victims as a result of the explosion.
Published a video from which you can see that one of the pillars of the central support has suffered, as well as the base of the support pair. Rebar is strongly bent. The power of an explosive device driven by unknowns was up to 100 g in TNT equivalent.
The operational headquarters of the Ministry of Emergency Situations of the DPR was formed on the site. Assistance is provided including by Russian specialists.
Recall that in the Donbass with 29 December 2018, the regime of the so-called New Year (Christmas) truce. The number of attacks on the territory of the LDNR has decreased, however, shelling from the Ukrainian side does manifest itself. This is recorded by the specialists of the Joint Center for Monitoring the Situation in the Region.