On the night of Sunday, the fourth mass protest of Serbian citizens against the policies of the government of the country and of personally President Alexander Vucic passed in Belgrade, reports
RIA News
.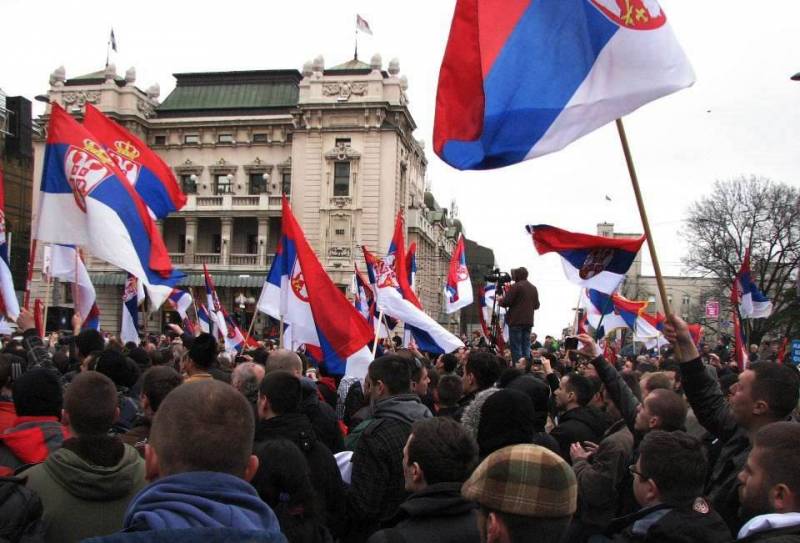 Several thousand people took to the streets of the capital.
The reason for the weekly demonstrations was the attack of 23 in November against the leader of the opposition Levitsa party, Borislav Stefanovich, and his two allies in the town of Krusevac. In the course of the attack, Stefanovich blew his head. The police later reported the arrest of suspects, but opposition activists accused the government of allowing political violence.
The first protest action took place on December 8. State media have called it small. This was followed by a new outburst of indignation. Now the government was also accused of lying. The slogan of the demonstrators was "Let's count."
Then the motto "One in Five Millions" went into effect. He appeared after Vucic's statement that he would never be led by the demonstrators, even if 5 millions gathered.
The current campaign began on Saturday at 20: 00 Moscow time. from a rally at the Faculty of Philosophy of the University of Belgrade.
If we are asked who organizes the protests, we must answer - Vucic. After all, if it were not for his work, we would not have gathered so much, and we would not know what to fight against. Thank you Vucic for speeding up your care,
The famous Serbian actor Branislav Trifunovic said at the rally.
He also called for the resignation of Interior Minister Nebojsh Stefanovich, who "likes to humiliate the people and count the number of demonstrators," instead of investigating the killings in the city.
Other speakers demanded public control over the distribution of state funds, an effective fight against corruption, and a reduction in taxes.
It is reported that part of the demonstrators dressed in yellow vests, which became a symbol of protests in France. People went outside with megaphones and drums. The thousands procession chanted: "Vuchich is a thief!" On collisions with the police is not reported.