Despite the ongoing peace negotiations in Stockholm to resolve the situation in Yemen, the coalition air forces led by Saudi Arabia, as
transmits
Lebanese news agency Al-Masdar News continued to strike at the positions of Yemeni rebels.
In total, for the 2 of the day this week, the coalition air forces launched more than 50 airstrikes, mainly on targets in the provinces of Sa'ad, Hodeidah, Hajj, Taiz and Marib. At the same time, due to the extreme weakness of the remaining Husit air defense systems, the coalition air group did not suffer any losses, excluding the shooting down of December 12 2018 over the Al-Duriheim area of ​​the light reconnaissance aircraft (according to other data, it was a UAV).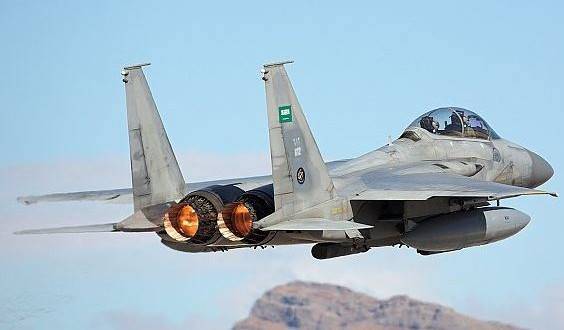 Aircraft of the Saudi Air Force in the sky of Yemen.
In addition, on the ground last week, units of Saudi mercenaries resumed active hostilities in the governorate of Hodeidah, the purpose of which was to capture a strategic port located in the province. But success, despite active support from the air, once again hired by Saudi money Sudanese and Somalis did not reach.
However, the main
news
announced by UN Secretary-General Antonio Gutertesch as
сообщает
"Euronews" TV channel, was the conclusion of a preliminary agreement on a cease-fire in Yemen.
According to the provisions of the adopted document, the parties mutually withdraw their units from Hodeida, and this port is placed under international control of the UN in order to ensure humanitarian supplies of food, drinking water and medicines.
"Today we have witnessed a turning point that is extremely important for a future political settlement in Yemen," said A. Gutterish.
The parties to the conflict and the international community express the hope that de-escalation in the Hodeida zone and the lifting of the blockade of Yemen will favorably resolve the difficult humanitarian situation in this country (where up to a third of the population is literally hungry, and up to 3 million people who became internally displaced are on the verge of survival).