Publications appeared in Japanese and American media that "for the first time lately" a reconnaissance aircraft of the Chinese Air Force flew "in close proximity" to Japanese airspace in the southern part of the Okinawa prefecture. Recall that in this prefecture of Japan is concentrated the most number of representatives of the American military contingent in the country.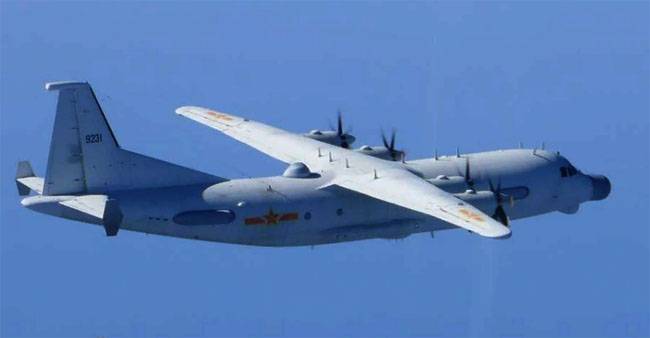 This is one of the modifications of the aircraft Y-9 (Y-8X) manufacturer Shaanxi Aircraft Company.
Chinese media reported that the reconnaissance aircraft did indeed approach the airspace of Japan, but did not violate any international rules and regulations. The PLA Air Force Y-9 proceeded in the area of ​​the Miyako Islands belonging to the group of southern islands of Japan - Ryukyu (geographically belong to Okinawa).
To the nearest military base in the implementation of the flight of the Chinese military side was several hundred kilometers. However, this fact did not prevent the Japanese and American media from announcing "the complication of the situation in the region" and the "growing threat from Beijing".
In the Chinese media, it is noted that the reconnaissance aircraft that carried out the very one that caused a stir in Tokyo, has a new modification. In particular, several additional radars are installed on the fuselage, and the on-board systems allow you to analyze and classify the entire spectrum of signals using the new program. Filtration from the so-called radio frequency noise is carried out, which contributes to increased efficiency in the area of ​​the EW systems.
The modernization of the "stuffing" of the Chinese reconnaissance aircraft, as stated, allows determining the coordinates of the radiation object with a high degree of accuracy even in the case of the mentioned electronic countermeasures.
Tokyo does not hide the irritation of this kind of flight. And in the media in Japan and the United States even stated a specific task, performed by Chinese pilots. So, it is said that the main task of Y-9 during the implementation of the reconnaissance flight was the task of determining the frequency spectrum used by the Japanese and American warships. In turn, as noted in the reports, the PLA is "necessary for creating a program for the formulation of effective electronic interference". In the same materials, a statement was made that such activities of the Chinese Air Force "threaten regional stability."