Ukrainian media TSN, citing a representative of the SBU reports on the detention of a former employee of the Ministry of Defense of Ukraine. The name of the detainee is named - Sergey Lazarev. At the same time, it is claimed that for several years Lazarev allegedly worked for the Russian military intelligence, having the pseudonym "Socrates".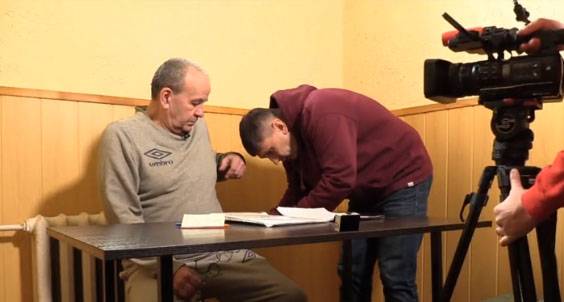 In the Ukrainian counterintelligence, they claim that for about three years, an employee of the Lazarev department transmitted to the "Russian GRU" information on the supply of military equipment to the Supreme Soviet. At the same time, it is said that in the Ministry of Defense of Ukraine Sergey Lazarev was responsible for recording military equipment in the country's air force.
About when exactly "Socrates" transmitted data to the Russian side, whether it transferred them while in office or after retirement, is not reported in the Ukrainian media. But it is added that "Socrates" is "waste material, and the further fate of this old man does not interest his curators".
And right there:
But the professional memory of this person still has value for the Russians.
Published data about Sergei Lazarev. It is alleged that he is a retired colonel of the Ukrainian Air Force. They allegedly made contact with the "GRU" during a trip to her sister in the Belgorod town of Shebekino.
From an interview with a man who called himself a cybersecurity expert:
The Russians gave him a computer that looked like a cheap laptop, but a program was installed on it, which itself erased data on contacts and information transfer routes.
The submission states that one of the tasks allegedly assigned to Lazarev by the Russians was the task of acquiring a Ukrainian drone. After sending Lazarev to the Lukyanovsky pre-trial detention center, the SBU is trying to find out through whom "Socrates" was supposed to ship the drone to Russia. At the same time, it remained unclear whether the UAV was acquired or not, if at all.
история
with the acquisition is not a fake from the SBU, which recently revealed a lot.
Immediately stated that Lazarev may be in the list of persons who can later be exchanged. It is noteworthy that this story manifested itself after the detention of the SBU officers in Kerch - the very ones who were together with the Ukrainian sailors on the boats violating the state border of Russia. It is possible that the SBU will now try to exchange the detainee for the very same esbeushnikov who were transported a few days ago from Kerch to Moscow.